This article is part of our Team Previews series.
Chicago Bears

With likely the worst quarterback situation in the NFC North, along with an unimpressive O-line, it'll be difficult for the offense to execute regularly. Although the defense should improve from a disappointing campaign, the Bears may find themselves outside of the playoff field of seven.


Offseason Moves
Key Acquisitions
Declining vet who is without a star QB for the first time in his career.
Has averaged less than one TD pass per game over the last five years.
Viewed as a blocking tight end by GM Ryan Pace, his fantasy value is lacking.
With Prince Amukamara gone, he could start Week 1.
Key Losses
Two concussions aside, the situational deep threat was inconsistent.
Plagued by injuries for the vast majority of 2019, resulting in his release.

Failed to intercept a pass in two of his three seasons with the Bears.

A solid IDP after injuries hit the team's linebacking corps.
A Look Under the Hood
Head Coach: Matt Nagy (Year 3)
Offensive Coordinator: Mark Helfrich (Year 3) - West Coast Offense
Defensive Coordinator: Chuck Pagano (Year 2) - 3-4 scheme
2020 Vegas Projected Wins: 8.5 (T-14th)
2019 Record: 8-8
2019 Points Scored: 280 (29th)
2019 Points Allowed: 298 (4th)
2019 Point Differential: -18 (T-19th)
2019 Run-Play Rate: 38.7 percent (22nd)
2019 Situation-Neutral Pace: 31.51 seconds per play (22nd)
2019 Offensive Snaps: 1,020 (T-13th)
2019 PFF O-Line Ranking: No. 25
Projected 2020 Depth Chart
QB: Mitchell Trubisky / Nick Foles
RB: David Montgomery / Tarik Cohen / Ryan Nall
WR1: Allen Robinson / Javon Wims
WR2: Anthony Miller / Riley Ridley
WR3: Ted Ginn / Cordarrelle Patterson / Darnell Mooney
TE: Jimmy Graham / Cole Kmet / Demetrius Harris / Adam Shaheen
O-Line: LT Charles Leno / LG James Daniels / C Cody Whitehair / RG Germain Ifedi / RT Bobby Massie (RotoWire Rank: No. 25)
Kicker: Eddy Pineiro / Ramiz Ahmed
Top Storylines
Is It the Last Dance for Trubisky and Nagy?
In 2018, the Bears made the playoffs while Mitchell Trubisky showed signs of emerging into a viable starting quarterback. Unfortunately, he took a big step backwards last year as the team finished 8-8. Knowing that another lost season could lead to a housecleaning and yet another rebuild, management brought in journeyman Nick Foles as an insurance policy for Trubisky.
Despite having a QB situation that's far from optimal, coach Matt Nagy will be expected to produce an offense that consistently moves the football. However, Chicago failed to upgrade an offensive line that did very little to open holes in the run game or give the QB much time to avoid the pass rush, so the play calling may not be the answer.
On top of that, an aging Jimmy Graham was the main weapon brought in on offense during the offseason. The tight end hasn't been a high-level player since departing New Orleans in 2015, even though he's worked with top-tier signal-callers in Russell Wilson and Aaron Rodgers. The Bears also drafted TE Cole Kmet in the second round of this year's draft, but GM Ryan Pace doesn't envision the rookie being a primary receiving option to start his career.
Based on last year's performance along with a quiet offseason, it may be tough for Trubisky and Nagy to produce a strong offense, which could threaten their standing in Chicago.
Backfield Searching for Improved Production
Because the Bears made few changes to the backfield this offseason, the majority of the snaps will fall on 2019 third-round pick David Montgomery and fourth-year pro Tarik Cohen. Of the duo, Montgomery should have a stranglehold on early-down work, but he also managed just 3.7 yards per carry as a rookie.
Granted, some of his inefficiency can be blamed on an offensive line that frequently saw Montgomery hit at or behind the line of scrimmage, so he didn't really get a chance to feature the elusiveness that he displayed at Iowa State. The O-line doesn't project to be much better in 2020, especially after losing mainstay right guard Kyle Long to retirement. Still, Montgomery won't be lacking for carries and will get the occasional target, making him a fair bet to surpass 1,000 yards from scrimmage for a second consecutive campaign.
Aside from Montgomery, Cohen is slated to be the passing-down back, but it remains to be seen whether Chicago gets last year's version (just 669 yards from scrimmage, three TDs) or that of two seasons ago (1,169, eight). For PPR purposes, though, he averaged 6.1 targets per game during that stretch, which can't be ignored. Much of the Bears' potential for an improved offense this season depends on what coach Matt Nagy can get out of both Montgomery and Cohen.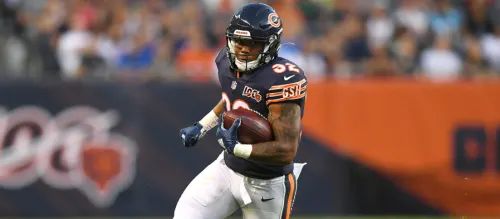 David Montgomery hopes to benefit from less predictable play calling in his second campaign.
Can the Defense Rebound to Elite Form?

It's not that the Bears were a bad defensive team in 2019. It's just that they failed to be the dominating unit that led to a playoff berth the previous year. One of the root causes was the elbow injury that kept Akiem Hicks out for 11 games, as he's not just an excellent pass rusher but also a main component of the run defense.
The loss of Hicks allowed opposing offenses to pay more attention than ever to Khalil Mack. As a result, Mack matched his career low with 47 tackles and added 8.5 sacks. In fact, the latter figure represented his fewest since he was a rookie in 2014.
But only so much of the unit's slide can be attributed to injury, and the team's biggest loss likely was defensive coordinator Vic Fangio, who always made his groups greater than the sum of their parts. Going into 2020, DC Chuck Pagano will need not only to free up Mack to put him in a position to disrupt opponents, but he'll also need full seasons of health from inside linebackers Roquan Smith and Danny Trevathan, two other defenders that missed time last year.
Another area of concern was the regression exhibited by playmaking safety Eddie Jackson. Perhaps the trickle-down effect of an available Hicks will pave the way to a collective bounce-back for the Bears defense, but it should be reiterated that Fangio isn't walking back through that door.
Barometer
⬆️ Rising: WR Anthony Miller
Although he had eight outings with fewer than 20 yards last year, Miller had a four-game stretch Weeks 12-15 in which he posted a 27-377-2 line. As the second option in the passing attack, he has a chance for his best season yet.
⬇️ Falling: QB Mitchell Trubisky
After Trubisky threw for 17 TDs and less than 210 yards per game in 2019, the team brought in Nick Foles to vie for the starting gig. If Trubisky doesn't impress in camp, he could be the backup by Week 1.
😴 Sleeper: QB Nick Foles
A decent enough fill-in QB, Foles made 13 starts over the last four seasons. He may emerge from camp with the starting job, and even in an offense without a ton of firepower, a No. 1 signal-caller has value.
🌟 Pivotal Player: Allen Robinson

After three disappointing seasons, Robinson posted a 98-1,147-7 line on a career-high 154 targets in 2019, returning to the elite level he flashed with the Jags four years prior. With the Bears having few playmakers, he'll continue in his role as the team's alpha receiver and again should perform as a plus fantasy option at the position.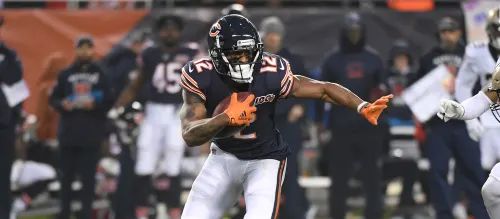 One of the few unquestioned entities on the Bears, Allen Robinson is in search of back-to-back 1,000-yard seasons.