This article is part of our Weekly Rankings series.
Sunday Update complete.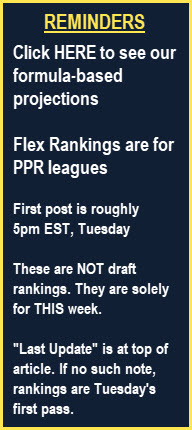 Here are my rankings (if you want a second opinion, please see our formula-based projections - these are not tied into my rankings at all) for the coming week at each position to help you decide your starting lineup. Our rankings are based on the following scoring system: four points for a passing touchdown; six points for a rushing/receiving touchdown; one point for every 20 passing yards; and one point for every 10 rushing/receiving yards. ***Flex Rankings are for PPR leagues.***
**** PLEASE READ: (On a quick aside - our research shows that even though PPR leagues are becoming more popular, standard scoring leagues still outpace them, and moreover there are more 1/2pt PPR leagues coming into play as leagues adjust to the higher passing environment in the NFL. Beyond that, it makes more sense to create PPR rankings for the Flex position, and extrapolate those across the individual positions than it does in reverse. You may choose to disagree, but my stance here is pretty inflexible.)****
Typically, this article will be posted on Tuesday evenings, roughly around 5:00 pm PT. ***These are not draft rankings. They are solely for the given week of the season.***
I will update these during the week, usually twice per week to account for injury or other news during practice. The timing of those updates will vary based on the news at hand and my schedule for the given week. But the first of those updates usually won't happen until Thursday.