This article is part of our The Armband series.
Gameweek 14 went almost as expected, with Manchester City and Liverpool combining to score seven goals and conceding zero. However, one player stood above the rest in terms of underperforming and it was surprisingly the top forward. Sergio Aguero managed just two fantasy points from one shot even though his team found the back of the net four times. That unpredictability has been a problem all season, as he's had two or fewer points in five matches, and that's usually not an issue with midfielders like Raheem Sterling or Eden Hazard because they also get points for clean sheets. Yet when picking a captain, it's hard to look the other way when they have a good matchup, which is the case this gameweek.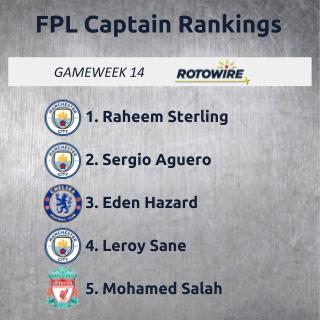 Manchester City are in a great spot at home against a Bournemouth side that has lost three straight and fell 2-1 at Newcastle last time away. It only makes sense to give the armband to one of the Citizens, and Aguero conveniently will be a favorite. He's most likely to score, though he only has three shots on goal and four chances created in his last three starts. The next two in line are David Silva and Sterling only because they're most likely to start. Silva has played a full 90 in the last two, so there is some worry, but he's made the score sheet in his last five starts. Sterling also played 90 on Tuesday, but his upside is undeniable with four goals and three assists over his last five starts in all competitions. Leroy Sane would be the differential, as he's produced four goals and two assists in his last four starts, though that stretches back to Oct. 20.
Chelsea may have the easiest matchup at home against Fulham, who have allowed 33 goals, including 18 while playing away. Hazard missed Thursday's Europa League match with an ankle injury, but manager Maurizio Sarri said he'd be good to go for Sunday. As long as that holds true, Hazard remains a top option. He hasn't made the score sheet in his last three starts, but he has nine shots and 13 chances created in that period. Alvaro Morata is a viable differential, but I'm much more comfortable with Hazard if I'm looking at Chelsea.
Liverpool are the clear favorite in the Merseyside derby, but they played in Paris on Wednesday and also host an Everton side that recently held Chelsea scoreless at Stamford Bridge. The most worrying stat for Mohamed Salah is that he hasn't created a chance in his last three starts, and while he's still getting shots, his upside is limited if he's not helping teammates. The same goes for Roberto Firmino and Sadio Mane, as they are far less consistent than Salah.
Due to the great matchups for Chelsea and Man City, I'm avoiding the North London derby that's taking place at the Emirates. Both played in midweek and there's no telling how that match will turn out. I'm also avoiding Man United after they needed a late winner against Young Boys on Tuesday and failed to score at home against Crystal Palace the match prior.
As usual, it's slim pickings for a differential on a smaller team, especially with Aleksandar Mitrovic away to Chelsea. Leicester are in an ideal spot hosting Watford, but they haven't scored more than once in their last seven in all competitions and it doesn't help that numerous players are hurt. Oh, and James Maddison hasn't made the score sheet in his last five starts.
Callum Paterson is an intriguing option with 14 shots in his last five starts, but I'm not at the point where I want to captain someone from Cardiff. Picking a random player from Crystal Palace may be the best bet if you like to gamble. They have just one goal in their last four matches in all competitions, but Burnley have been equally as bad and just lost at home to Newcastle. Wilfried Zaha is the guy you're looking for after he had four shots and two chances created at Old Trafford last match, while Andros Townsend is the Crystal Palace differential, if that's a thing, as he gets fewer opportunities than Zaha.
Aaron Mooy is coming off a brace, but he hadn't scored prior to that all season. Newcastle are on a nice run, but good luck picking who will score against West Ham. Salomon Rondon is logical as the lone forward, but he had just one shot in the win at Burnley last weekend.
And finally, if you want a defender, Marcos Alonso is your guy as long as Chelsea can hold down Mitrovic.