Baskonia at Real Madrid
Date: 2/4
Time: 9:00 pm CET
Game Preview
The final game on Thursday's schedule features two teams that hail from Spain, as Tornike Shengelia and his Baskonia teammates head to Madrid looking to avenge their lopsided loss in Round 15. That will be a tall task to begin with, and one which will particularly difficult without point guard Pierria Henry, who is sidelined after undergoing surgery for a broken cheekbone. In Henry's stead, the team will need Sergi Garcia and recent addition Semaj Christon to direct the offense and help put second-leading scorer Nik Stauskas, third-leading scorer Shavon Shields, and fellow newcomer Zoran Dragic in positions to score the ball
The hosts, Real Madrid, sit in a three-way tie for second place overall and boast a plus-138 point differential. Fully healthy for the first time in a long time, the Madrid squad is driven by a balanced offensive attack and stifling low-post defense. Running the show is veteran point guard Facundo Campazzo, who is third on the team in scoring and first in assists and steals. His primary targets are Anthony Randolph, who is healthy again and leads the team in scoring at 13.4 ppg, and Trey Thompkins, Madrid's second-best scorer. The defense is anchored by the duo of Jordan Mickey, who sits second in the league with 1.1 blocks per game, and Walter Tavares, whose average of 2.2 swats per game is more than double any other player. Tavares and Mickey powered Madrid last time these teams met up, helping hold Baskonia to a measly 55 points.
The new-look Baskonia squad needs a win Tuesday to keep pace in the playoff chase, but they will have their work cut out for them facing a talented Madrid club that has lost just once at home all season.
Injuries
Kirolbet Baskonia
Patricio Garino - OUT - Knee
11/24 12:28 AM IST - Garino has been diagnosed with a torn ACL in his right knee. Garino left Friday's game and was sent to the hospital. It's been determined that he tore his ACL and that surgery is needed.
Jayson Granger - OUT - Achilles
10/1 3:36 AM IST - Granger will miss six months with a torn Achilles tendon, according to euroleague.net. Granger was injured in Baskonia's Spanish League opener, and will face a lengthy recover period after undergoing surgery. Assuming his recovery goes as planned, he should be able to rejoin Baskonia at some point during the second half of their season.
Pierria Henry - OUT - Face
1/29 9:59 PM IST - Henry will miss 3-to-4 weeks after undergoing surgery for a broken cheekbone, according El Correo. Henry's return timeline rules him out at least until Baskonia's Round 25 matchup with Zalgiris on Feb. 20. His injury leaves his club extremely thin at the point guard position, and Baskonia will likely lean on some combination of new addition Semaj Christon, Sergi Garcia, and possibly another player or two to fill the void.
Luca Vildoza - OUT - Shoulder
2/2 12:15 AM IST - Vildoza will undergo surgery on his injured shoulder next week and is expected be out three more months, according to eurohoops.net. Vildoza and Baskonia had been hoping to avoid surgery, but his shoulder did show the necessary improvement, and it was ultimately decided to send him under the knife. Vildoza's recovery timeline effectively rules him out for the season, unless Baskonia really heats up and lands a spot in the Final Four.
Real Madrid
None
Kirolbet Baskonia Probable Starters
G - Sergi Garcia
G - Nik Stauskas
F - Shavon Shields
F - Tornike Shengelia
C - Micheal Eric
Real Madrid Probable Starters
G - Facundo Campazzo
G - Fabien Causeur
F - Gabriel Deck
F - Anthony Randolph
C - Walter Tavares
Top Picks
Tornike Shengelia, BAS - Baskonia's top player is playing some of the best basketball of his career, averaging 16.0 points, 5.6 rebounds and 2.7 assists per game this season. He has put up double digits in the scoring column in all but two games on the year.
Facundo Campazzo, MAD - Campazzo is Madrid's most well-rounded player. Primarily a playmaker, he's averaging 10.5 points, 2.3 rebounds, 6.5 assists, 1.6 steals and 1.3 threes per game on the season.
Anthony Randolph, MAD - Madrid's top option on the offensive end, Randolph is averaging 13.4 points while chipping in 4.4 rebounds and 2.3 threes per game this season. He returned from a five-game absence to drop 19 points and seven rebounds in Round 22.
Walter Tavares, MAD - The winner of the EuroLeague Best Defender award last season, "Sergeant Swat" is in position to earn the honor for a second year in a row. In addition to his dominance in the block department, he is chipping in 6.3 points and, 6.7 rebounds per game. He is coming off one of his top outings of the current campaign, one in which he put up 10 points, 11 rebounds, and five blocks.
Captaincy Options:
Dream 11 Team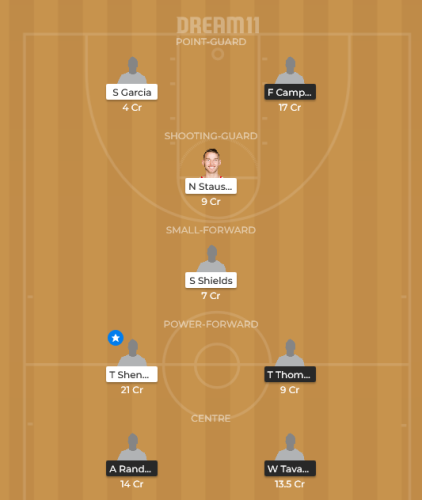 Grand League Combination
Shengelia, Campazzo, Randolph, Thompkins
Small League Combination
Shengelia, Campazzo, Randolph, Tavares
The author(s) of this article may play in daily fantasy contests including – but not limited to – games that they have provided recommendations or advice on in this article. In the course of playing in these games using their personal accounts, it's possible that they will use players in their lineups or other strategies that differ from the recommendations they have provided above. The recommendations in this article do not necessarily reflect the views of RotoWire.