Panathinaikos at Valencia
Date: 1/31
Time: 9:00 pm CET
Game Preview
The final game of Round 22 will be an important contest for two teams battling for playoff positioning. Panathinaikos, on the road for the first time in four Rounds, will be powered by the best offense in the EuroLeague, guided by the run-and-gun guru Nick Calathes. The league leader in assists with 9.8 per game, Calathes helms an offense packed with talent. Deshaun Thomas and Ioannis Papapetrou provide a scoring punch at the forward spots, and on the wing, Jimmer Fredette is the team's top three-point threat. So far, the high-tempo attack has worked, with Panathinaikos occupying the sixth spot in the standings with a 13-8 record. Opposing the Greek squad is Valencia, a team fueled by the strong interior play of Bojan Dubljevic, who's averaging 14.2 points and 7.0 rebounds per game this year. The Spanish team will at a disadvantage Friday, as second-leading scorer Jordan Loyd is sidelined with a foot injury. In Loyd's place, Valencia will lean on the depth that led them to a 10-6 record over the last 16 Rounds. Defense will be key for Valencia if they want to keep Panathinaikos in striking range. Last time these teams met, in Round 7, Panathinaikos won handily, scoring a 90-81 victory behind 19 points from Thomas. For Valencia to turn the tables, Dubljevic will have to make the most of his matchup with Georgios Papagiannis and lead on both ends of the floor.
Injuries
Valencia Basket
Jordan Loyd - OUT - Foot
1/24 10:58 PM IST - Loyd suffered a stress scaphoid fracture in his right foot during the team's last domestic league game and will be sidelined for the next five weeks, per Valencia's official website. Loyd's absence is a huge blow for a Valencia squad that sits seventh in the EuroLeague standings after Thursday's loss to CSKA Moscow. His 21 minutes per contest will likely be dispersed to the team's other guard options in the upcoming weeks while Loyd's timetable positions him for a return in late February or early March.
Mike Tobey - OUT - Calf
1/31 3:00 AM IST - Tobey (calf) will not play Friday against Panathinaikos, according to Valencia's official website. Tobey will be sidelined for a fifth straight game because of his injury. It's not clear how close he is returning to action, so it remains to be seen if he will have any chance to play in either or both EuroLeague games on Valencia's schedule next week.
Panathinaikos
None
Panathinaikos Probable Starters
G - Nick Calathes
G - Jimmer Fredette
F - Ioannis Papapetrou
F - Deshaun Thomas
C - Georgios Papagiannis
Valencia Basket Probable Starters
G - Sam Van Rossom
G - Guillem Vives
F - Fernando San Emeterio
F - Aaron Doornekamp
C - Bojan Dubljevic
Top Picks
Nick Calathes, PAN - Calathes runs the show for the Green, generating 13.4 points, 9.8 assists, 4.8 rebounds and 1.0 steal per game. Slowing him down as much as possible will be key for Valencia.
Bojan Dubljevic, PAM - Dubljevic is the heart and soul of the Valencia squad. On the season, he's posting averages of 14.2 points, 7.0 rebounds, 1.5 assists and 1.2 threes while shooting 50.8 percent from the field.
Deshaun Thomas, PAN - Thomas provides a nice complement to Calathes down low, and is contributing 14.0 points, 4.7 rebounds and 1.1 assists per game. He rejoined the starting lineup in Round 21 after a spell as a reserve, and scored in double figures for the 14th time in 15 games.
Jimmer Fredette, PAN - Fredette is scoring 15.0 points per game and eclipsed the 20-point mark twice in the last four outings. A deadly shooter, he is hitting 52.9 percent of his shots from the field, 44.8 percent of his three-point shots, and 95.8 percent of his free-throw attempts this season.
Captiancy Options
Dream 11 Team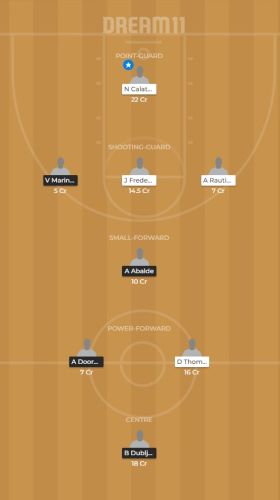 Grand League Combination
Calathes, Dubljevic, Fredette, Rautins
Small League Combination
Calathes, Dubljevic, Fredette, Thomas
The author(s) of this article may play in daily fantasy contests including – but not limited to – games that they have provided recommendations or advice on in this article. In the course of playing in these games using their personal accounts, it's possible that they will use players in their lineups or other strategies that differ from the recommendations they have provided above. The recommendations in this article do not necessarily reflect the views of RotoWire.