This article is part of our DFS College Basketball series.
With no Thursday Night Football, college hoops is again taking center stage with an eight-game slate and multiple $2k top prizes up for grabs on DraftKings. Let's take a look at the day's implied totals before diving into the picks.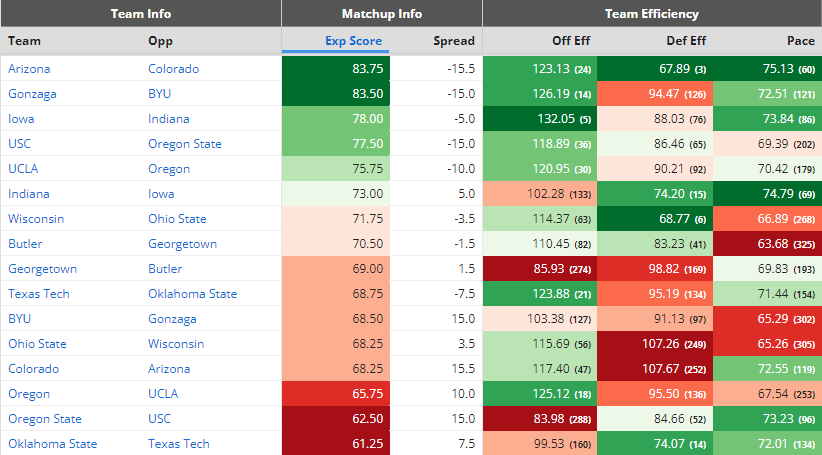 Top Players

Isaiah Mobley, F, USC ($8,900 DK)
Isaiah Mobley couldn't ask for a better matchup today. Oregon State has the worst defense in the Pac-12, per KenPom's adjusted efficiency ratings, and the Beavers are also ineffective at securing rebounds, with its team offensive and defensive rebounding rates currently ranking in the bottom 30 percent of the country. Mobley is the leader of the team, earning KenPom's MVP honors in five his last eight games. Mobley also leads the team in points, rebounds, and minutes, nearly averaging a double-double in the process. Given this matchup, it would be surprising if Mobley didn't have a spectacular game. Another good option here is Chevez Goodwin, as he should also benefit from this matchup.

Bennedict Mathurin, G, Arizona ($8,100 DK)
Arizona is projected to top 80 points tonight, so the Wildcats are a nice starting point for filling out your lineup. Bennedict Mathurin is my first choice mainly because he's been scorching hot, scoring 55 combined points in his last two games. He also scored 30 points about a month ago on Dec. 11 at Illinois, part of a three-game stretch where Mathurin scored 83 total points. Mathurin is currently taking a quarter of his team's shots when on the court, the highest rate on the team, so we can expect his volume to continue. Last season, Mathurin recorded the third-highest offensive efficiency rating among all Pac-12 players during conference season, so his continued success this season is hardly surprising. Based on these numbers, Mathurin is an excellent bet to play a productive and significant role in what should be an incredibly high-scoring game, for Arizona at least.
Middle Tier

Xavier Johnson, G, Indiana ($6,600 DK)
Iowa, along with Nebraska, has the worst defense in the Big Ten, per KenPom's adjusted efficiency ratings. Starting point guard Xavier Johnson is currently using 25.6 percent of his team's possessions when on the court, the second-highest rate on the team. He also has the 52nd best assist rate in the nation, which isn't too surprising considering that he posted the number one assist rate among all ACC players in conference games last season with Pittsburgh. Johnson has scored in double-figures in 7-of-15 games this season, so he can also put up points when needed. Either way, Indiana is projected to score a good amount of points today, and Johnson should have a productive day as long as he can stay out of foul trouble, which has affected his playing time at times this season.

Bryson Williams, F, Texas Tech ($5,700 DK)
This pick is all about the matchup. Texas Tech has a massive offensive rebounding advantage entering the contest, as the Red Raiders currently have the 10th highest offensive rebounding rate in the country, while Oklahoma State ranks in the bottom 20 percent of the country with its defensive rebounding rate. Bryson Williams currently has the highest offensive rebounding rate among Texas Tech starters, so he's a natural candidate for a big game. Williams also has the highest offensive efficiency rating on the team, in addition to taking 29 percent of the Red Raiders' shots when on the court, the highest rate on the team. Williams experienced sporadic playing time earlier in the season, but he's been a steady contributor since conference season kicked off. In three games against Big 12 competition, Williams has played 28-plus minutes and scored double figures in all three games. All signs indicate Williams should have a good, if not great game tonight. Between the matchup advantage, his usage, his efficiency, and his playing time, Williams checks all the boxes today, and with a friendly salary to top it off.
Value Plays

Anton Watson, F, Gonzaga ($5,200 DK)
Gonzaga has the second-best offense in the country, per KenPom's adjusted efficiency ratings, so the Bulldogs are loaded with interesting DFS options. Anton Watson, coming off his best game of the season, makes for an intriguing pick, as he's scored nine-plus points in six straight games. In the same span of games, Watson is averaging over 6 rebounds, 2 steals, and nearly 2 assists per game. Add everything up and it's easy to see that Watson shouldn't have too much trouble providing a solid floor, assuming his upward trend continues. Among his Bulldog teammates, Watson has the highest offensive rebounding rate, highest steal rate, and second-best assist rate, so he should continue stuffing the stat sheet as long as he's in the game.

Cody Riley, F, UCLA ($3,400)
Cody Riley recently returned to action after missing most of the season due to an injury suffered in the season-opener back on Nov. 9. Myles Johnson was relatively effective in filling in for Riley during his absence, however, the past two games indicate that Riley has indeed returned to his starting role and is anchoring the frontcourt. In the team's most recent game against Cal, Riley played 27 minutes as he collected almost 25 fantasy points. In the same game, Myles Johnson played 12 minutes and scored zero points. Safe to say Riley has his job back, and it's hard to beat today's salary. Now that Riley is closer to game shape, he shouldn't have any trouble generating value in today's matchup against an Oregon team that has its lowest adjusted defensive efficiency rating since 2012, coach Dana Altman's second season with the team. Riley offers a high floor, and his ceiling isn't bad. In the Final Four matchup against Gonzaga last season, Cody Riley scored 14 points, collected 10 rebounds, and logged 5 assists in 42 minutes of playing time. This is a player who has the potential for a big game, and today we have the opportunity of selecting him at the cost of a middling bench player. I'll take it.
The author(s) of this article may play in daily fantasy contests including – but not limited to – games that they have provided recommendations or advice on in this article. In the course of playing in these games using their personal accounts, it's possible that they will use players in their lineups or other strategies that differ from the recommendations they have provided above. The recommendations in this article do not necessarily reflect the views of RotoWire. Steve Peralta plays in daily fantasy contests using the following accounts: FanDuel: Buddusky, DraftKings: Buddusky24.