This article is part of our DFS College Basketball series.
Plenty of teams to pick from Thursday, as DraftKings is putting up a 12-game slate with a $2k first prize in its Big Jam. As usual, we'll take a look at implied totals before jumping into the plays.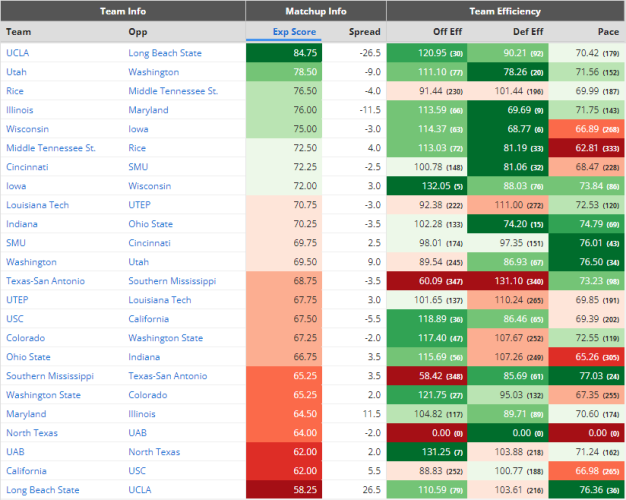 Top Players

Jaime Jaquez Jr., G/F, UCLA ($8,800 DK)
This is by far the most lopsided matchup of the day. KenPom is projecting UCLA to win by 27 points, so the Bruins are a natural target on today's slate. UCLA's offense is currently ranked No. 15 in the country in terms of KenPom's adjusted efficiency ratings, while Long Beach State's defense is ranked all the way down at No. 250. There's no telling how many points UCLA might score tonight. Unsurprisingly, the Bruins also possess a major rebounding advantage over the 49ers, so for this reason I specifically like Jaime Jaquez Jr., who currently has the second-most points and second-most rebounds on the team. And while it's been a couple of weeks since UCLA last played, Jaquez is coming off his best game of the season, scoring a season-high 24 points to go with 11 rebounds. There's a decent chance we'll see a similar performance in today's game.

Brad Davison, G, Wisconsin ($7,300 DK)
The Hawkeyes easily have the worst defense in the Big Ten, per KenPom, and they like to push a fast pace, so the Badgers should be able to put up a ton of points tonight. Johnny Davis is playing at another level this season, so he's certainly the best candidate here, although if you're looking for someone at a lower salary, then I'd suggest Brad Davison. He's also been a strong scoring option for the Badgers, as he has the second-most points on the team this season. Davison currently boasts the highest offensive efficiency rating on the team while also playing the most minutes on the team, a nice combo that's further bolstered by the fact that Davison also has the second-highest usage rate on the team. All signs indicate that Davison will once again play a critical role in a high-scoring game.
Middle Tier

Race Thompson, F, Indiana ($6,900 DK)
This is a mostly even Big Ten matchup, except Indiana holds a clear advantage when it comes to rebounding, with the Hoosiers posting higher team rebounding rates on both offense and defense. Race Thompson currently has the second-most rebounds on the team, just three short of Trayce Jackson-Davis, so both frontcourt players should have a very productive day. Jackson-Davis is no doubt the better option, albeit with a higher salary, but Thompson offers a similar skillset at a lower tier. In addition to rebounding, Thompson also has the second-highest offensive efficiency rating on the team and also the second-most blocks. Prior to his last game when he scored nine points, Thompson had scored in double figures in six straight games. I'm thinking today will mark the start of a new scoring streak.

Marco Anthony, G, Utah ($6,800 DK)
The Utes have one of the highest projected point totals on the slate, mostly because Washington is the worst team in the Pac-12, in terms of KenPom's adjusted efficiency ratings. The other important matchup note is that Utah has a significant rebounding edge over Washington, with the Utes recording better team rebounding rates on both sides of the court. Washington is particularly awful on the defensive side, as the Huskies currently have the 13th-worst defensive rebounding rate in the country, while Utah enters the contest with its offensive rebounding rate ranked at No. 105. Needless to say, Utah should have plenty of put-back opportunities. Marco Anthony leads the team in both offense and defensive rebounding, so he has a fair shot at posting a double-double today, having scored in double figures in four straight games entering today.
Value Plays

Cobe Williams, G, Louisiana Tech ($5,500 DK)
The Bulldogs have a favorable matchup today, as they enter the contest with an offense that's ranked No. 53 in the country, per KenPom, going against a defense that's ranked at No. 147. Additionally, Louisiana Tech has a noticeable advantage when it comes to interior scoring because UTEP is allowing opponents to make 53 percent of their two-point attempts, ranking in the bottom quintile of the country. Meanwhile, Louisiana Tech is currently making 55 percent of its two-point field goals, ranking in the top 10 percent of the country. Given these trends, the Bulldogs will likely be able to do most of their scoring damage inside the arc. Cobe Williams has made 27-of-51 two-point attempts this season, so he should be able to advantage of the soft interior defense. Williams has been scorching hot lately, scoring 40 combined points in his last two games and also averaging 14-plus points over his last six contests.

DeAndre Dishman, F, Middle Tennessee State ($4,400 DK)
Rice has one of the worst defenses on the slate, ranked No. 297 in the country in terms of its adjusted efficiency rating. Middle Tennessee State also has two key advantages on offense: its rebounding rate and its two-point field goal percentage. The Blue Raiders are noticeably better in both categories against the Owls' defense, so I'm liking Middle Tennessee's frontcourt players in this matchup. DeAndre Dishman leads the team in offensive rebounding and made two-point field goals, so he seems like a logical beneficiary in this matchup. Dishman is also using over 20 percent of his team's possessions when on the court, so he's not shy when it comes to trying to make plays. All in all, Dishman provides a solid floor in what should be a high-scoring game.
The author(s) of this article may play in daily fantasy contests including – but not limited to – games that they have provided recommendations or advice on in this article. In the course of playing in these games using their personal accounts, it's possible that they will use players in their lineups or other strategies that differ from the recommendations they have provided above. The recommendations in this article do not necessarily reflect the views of RotoWire. Steve Peralta plays in daily fantasy contests using the following accounts: FanDuel: Buddusky, DraftKings: Buddusky24.