This article is part of our DFS College Basketball series.
We have a broad college hoops slate today, with seven games on DK and six games on FD. Illinois is expected to score the most points of any team on the slate, making the Illini the ideal starting point for filling out your lineup.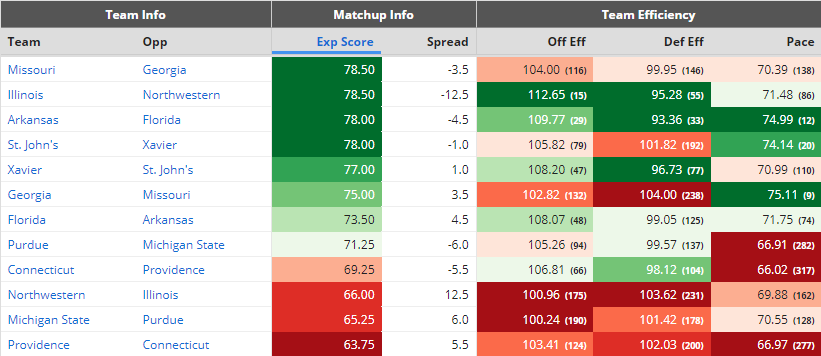 Targets
Kofi Cockburn, F, Illinois ($9,300 DK, $8,300 FD)

Cockburn is a must-start. Northwestern has the worst defensive efficiency in the Big Ten since conference play started, and, if that weren't enough, it also has the worst offensive rebounding rate and fourth-worst defensive rebounding rate in that same span of time. As one might expect, Cockburn has the third-best offensive rebounding rate and second-best defensive rebounding rate in the Big Ten this season. Cockburn couldn't ask for a better matchup this late in the season.
Posh Alexander, G, St. John's ($7,100 DK, $6,700 FD)

The Red Storm are expected to score around 78 points tonight, and their freshman point guard should once again facilitate a significant amount of the action. Since conference season started, Alexander has the highest steal rate, ninth highest assist rate, and nineteenth highest usage rate among all qualified players in the Big East. Alexander put up a dud in his last game but was scorching hot before that. I'm expecting him to have a strong bounce-back performance given the matchup.
JD Notae, G, Arkansas ($4,900 DK, $5,200 FD)

This pick is a little risky but could provide a decent return depending on how Notae's playing time shakes out. Notae leads the team in usage rate by a wide margin, although his minutes have been inconsistent throughout the season, causing a lower assigned salary for today's contest. He's only had six games all season without scoring double-digit points, so I'm thinking today is a good time to roll the dice now that his salary is low. Notae has the fifth-highest usage rate in the SEC this season (among qualified players), and Arkansas is expected to score around 77 points tonight, a promising combination.
DraftKings Exclusive
Dru Smith, G, Missouri ($7,300) OR Xavier Pinson, G, Missouri ($6,200)

Georgia has the worst defensive efficiency in the SEC since conference play started, and I'm expecting the Tigers will take advantage considering Missouri's offense is ranked No. 40 in the country in terms of adjusted efficiency. Missouri is down a key starter in Jeremiah Tilmon, so that means Smith and Pinson should be more involved than usual. Both players have already had monster games this season, so either Tiger is more than capable of paying off big.
Fades
Aaron Henry, F, Michigan State ($7,900 DK, $7,100 FD)

Tough matchup for the Spartans today. Purdue's defense is ranked No. 27 in the country in terms of adjusted efficiency (per KenPom), while Michigan State has the second-worst offense in the Big Ten. This explains why the Spartans are projected to score the fewest points of any team in the common pool of games, making them an easy option to avoid when filling out your lineup.
Chase Audige, G, Northwestern ($7,500 DK, $5,300 FD)

The Wildcats are already struggling to score this season, and now they have to take on an Illinois defense that's ranked No. 15 in the country in terms of adjusted efficiency. This is the most lopsided matchup on today's slate, and I'm not sure we can afford to take a chance on the losing end of that projection. Regarding Audige, his salary on DK appears to be a season-high, giving us the perfect opportunity to avoid him in a difficult matchup. That being said, his salary is low enough on FD that he wouldn't be a bad flier considering he easily leads the team in usage rate.
Tyree Appleby, G, Florida ($6,500 DK, $5,000 FD)

Florida concerns me for two reasons. One, Arkansas' defense is surprisingly stout, ranking fourth-best in the SEC since conference season started. In its last two home games, Arkansas held opponents to just 104 total points. Two, this will be Florida's first game since February 3. Not sure how much to weigh the teams' layoff, but either way, it's something to keep in mind. Regarding Appleby, his current DK salary seems rather high for someone who has a lower usage rate and isn't a notable rebounder. I'm passing Appleby on DK although his FD salary is low enough to the point that he's not a bad option if you're looking for a value pick.
The author(s) of this article may play in daily fantasy contests including – but not limited to – games that they have provided recommendations or advice on in this article. In the course of playing in these games using their personal accounts, it's possible that they will use players in their lineups or other strategies that differ from the recommendations they have provided above. The recommendations in this article do not necessarily reflect the views of RotoWire. Steve Peralta plays in daily fantasy contests using the following accounts: FanDuel: Buddusky, DraftKings: Buddusky24.