This article is part of our DFS College Basketball series.
We've got a special college hoops slate on our hands, as both Iowa and Gonzaga are featured in today's contests.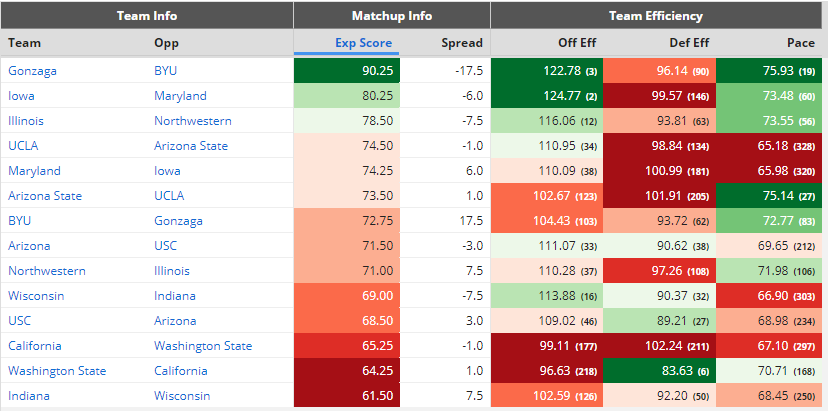 Targets
Drew Timme, F, Gonzaga ($7,600 DK, $7,300 FD)

Gonzaga is projected to score over 90 points tonight so the Bulldogs are a natural starting point when assembling today's lineup. Timme offers a reasonable salary on both sites and also has the highest usage rate on the team, so he's a solid building block for any roster. I also really like five-star freshman Jalen Suggs ($7,400 DK, $7,800 FD) as a buy-low candidate given the lower salary on DraftKings. Meanwhile, Corey Kispert ($8,100 DK, $7,000 FD) offers extra value for FanDuel players as he currently has the highest offensive efficiency rating in the country among all players that use at least 20 percent of possessions. Another interesting FanDuel option is Joel Ayayi ($8,000 DK, $6,900 FD) as he's currently leading the team in rebounding and minutes.
Joe Wieskamp, F, Iowa ($7,000 DK, $7,200 FD)

To Garza, or not to Garza, that is the question. Normally I would say yes given the matchup but I'm adjusting today's budget strategy because Gonzaga is also in the mix. Maryland's defense is the third worst in the Big Ten so there's a strong case for finding a way to fit Garza into your lineup. That being said, Wieskamp is a solid alternative as he has the second highest usage rate among Hawkeye starters. He's coming off a couple duds but I'm not concerned as he has a long productive history and the matchup shouldn't be an issue.
Kofi Cockburn, F, Illinois ($8,300 DK, $7,600 DK)

Illinois has a significant rebounding advantage entering the contest so I'm expecting Cockburn to have a productive night. He has the second highest usage rate on the team while averaging 26 minutes per game, essentially a strong floor combined with a high ceiling thanks to his rebounding abilities. If you're looking for budget options, Da'Monte Williams ($5,400 DK, $4,900 FD) or Giorgi Bezhanishvili ($3,900 DK, $4,300 FD) might provide value as they're also noteable rebounders on the team.
DraftKings Exlusive
Jules Bernard, G/F, UCLA ($5,700)

The Bruins have a massive rebounding edge over the Sun Devils so someone like Bernard has a chance to see a boost in production. In the first game following Chris Smith's season-ending injury, UCLA played four starters for almost the entire game while Cody Riley ($4,500) and Jalen Hill ($5,300) split equal time at center. Bernard should be on the court for most of the game and he currently boasts the highest offensive efficiency rating on the team. His scoring and rebounding abilities could pay off big.
Fades
Race Thompson, F, Indiana ($6,700 DK, $6,600 FD)

Thompson and the Hoosiers have the tough task of going against a Badger defense that is currently ranked number seven in the country in terms of adjusted efficiency. Not only that, but Wisconsin is currently defending against two-poinerts at the eighth best rate in the country. This could be a major issue for Thompson as he's only made two long-range baskets all season.
Chase Audige, G, Northwestern ($6,400 DK, $6,000 FD)

Illinois' defense is no pushover, coming into the game ranked No. 27 in the country in terms of adjusted efficiency. Audige won't have an easy matchup and on top of that he also carries the worst offensive efficiency rating on the team. He does have a high usage rage so there's a chance the volume will work out in the end but ultimately I'm passing given the risk involved.
Azuolas Tubelis, F, Arizona ($6,100 DK, $6,000 FD)

This game has the second lowest over/under total on the common slate so there's a good chance this one turns into an ugly defensive battle. Tubelis and his Wildcat teammates will take on a USC defense that is currently ranked No. 17 in the country. Digging into the numbers, the Trojans are also defending against two-pointers at the fourth best rate in the country. This is hardly a surprise when you remember that the Mobley brothers are locking down the USC front court. Tubelis has only made two shots from behind the arc all season long so he could be in for a long night in what figures to be a lower scoring affair.
The author(s) of this article may play in daily fantasy contests including – but not limited to – games that they have provided recommendations or advice on in this article. In the course of playing in these games using their personal accounts, it's possible that they will use players in their lineups or other strategies that differ from the recommendations they have provided above. The recommendations in this article do not necessarily reflect the views of RotoWire. Steve Peralta plays in daily fantasy contests using the following accounts: FanDuel: Buddusky, DraftKings: Buddusky24.