This article is part of our The Armband series.
The matches keep coming. After one of the bigger double gameweeks of the season, Liverpool and Huddersfield get things started for Gameweek 36 on Friday. The good news is that you don't have to overrate anyone after more two-match disappointments. Spurs and Man United combined for just one goal from four matches compared to Everton, who bagged four in their win over the Red Devils.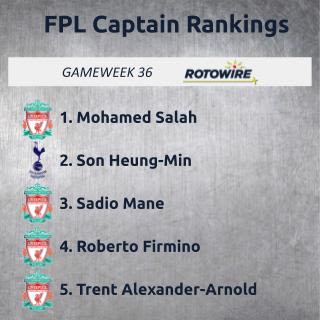 This week is a layup compared to last, with Liverpool the likely first spot everyone will look for captaincy. Huddersfield lost 4-0 to Tottenham in their last away match and have dropped their last seven overall. Meanwhile, the Reds have scored multiple goals in their last six league matches and will likely hit that number again. That should make Mohamed Salah the top option with eight shots on goal and five chances created in his last three starts. He hasn't had a true breakout performance since losing form, but this is as good of matchup as any. The pivot would be to go Sadio Mane or Roberto Firmino, with the latter surprisingly producing more of late. Firmino has three goals and three assists in his last seven matches compared to Mane's three goals and one assist. Of course, before that time frame Mane bagged back-to-back braces. Any one of them is worthy of the armband, and the same goes for Trent Alexander-Arnold and Andrew Robertson with a clean sheet likely. It also helps that Liverpool can't take their foot off the gas since goal differential could easily come into play for the title.
Tottenham also have a favorable home match against West Ham, who have given up multiple goals in six of their last eight away games. The Hammers don't have anything to play for, so don't expect a repeat of the Brighton performance when they sat back all match against Spurs. If you think Lucas Moura can get another hat trick, this is the perfect spot for that, but Christian Eriksen and Son Heung-Min are the better captain options. Eriksen has taken a bigger role in the attack with 26 shots in his last six starts (he averages fewer than three per match), which is in addition to 20 chances created. He's the safe choice, whereas Son has bigger potential to score a brace with multiple shots on goal in four of his last five starts. But since you're picking these guys above Liverpool, it makes more sense to go with Son and his upside.
Man City aren't as easy to trust without Kevin De Bruyne in the lineup, but they won the first meeting against Burnley 5-0 without him. It only depends who you want to trust because this match has 65 minutes and one goal written all over it for Sergio Aguero. Sure, he could stay in for the full 90, but not if Man City are up a couple goals early. Raheem Sterling is more likely to play the entire way and he also has more upside. Sterling has made the scoresheet multiple times in six of the last seven matches in which he's made the scoresheet, scoring at least a brace four times. Otherwise, it's hard to trust anyone else with the starting XI unknown and scoring that could come from anywhere.
I usually avoid Arsenal in away matches and don't want to touch Man United-Chelsea. There aren't many more solid choices for captaincy since it's hard to find a better matchup than Liverpool's. The only other player I'd consider is Aleksandar Mitrovic, who has 21 shots in his last three matches. Even better is that Cardiff have to push for three points, which could leave Mitrovic in more favorable positions than usual. Even if Cardiff sit back and play for a draw, Mitrovic's size is always a problem on set pieces. You could probably give Jamie Vardy the armband since Arsenal struggle away, but that's only advisable if you don't have any Liverpool or Tottenham players.