This article is part of our The Armband series.
I tried to warn you about Salomon Rondon last gameweek. I hope you listened because I definitely didn't. While I backed Rondon, Joshua King and Alexandre Lacazette in these rankings, I personally went with Pierre-Emerick Aubameyang and… that's all I'll say.
Things are back to normal for Gameweek 28, at least in terms of every team being on the slate. The good news is that Spurs aren't in the conversation on the road, especially against Chelsea, while the same can be said about the Blues. Harry Kane is back, but there's little reason to give him the armband at Stamford Bridge, while it'll be equally hard to trust Eden Hazard after playing extended time Sunday.
Arsenal should again be one of the best places to look fresh off a 2-0 win against Southampton. They follow that with an equally desirable match against Bournemouth, who have lost their last eight away matches, giving up multiple goals in each. Somewhat unfortunately, I have to turn to Aubameyang again, as he should return to the starting XI. As mentioned last week, he has six goals and three assists in his last six home starts. Lacazette is about on the same level with a goal or assist in his last five home starts, but Aubameyang is scoring and assisting at a slightly better rate per 90 minutes, and that's why he gets the nod for captaincy.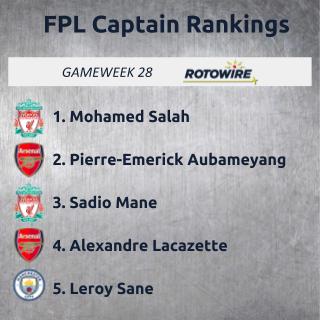 If you hate Arsenal, there are two other places that are equally as favorable, with Liverpool against Watford and Manchester City hosting West Ham. The Reds are coming off an ugly performance at Man United, but there's no denying their 35 goals scored and seven allowed at home. That being the case, Mohamed Salah could be the most popular captain despite just one goal in his last five starts in all competitions. He did nothing at Old Trafford, but the last time he was at home in league play, he managed seven shots and three chances created against Bournemouth. Roberto Firmino is injured, so Sadio Mane is the next option. Prior to the Bayern Munich match, Mane had scored in four straight starts, and he's been just as likely to score as Salah since that streak began. Liverpool have the best chance for a clean sheet, but it'll be hard to trust a defender with the armband given the available attacking options. Plus, Watford just dropped five goals in their last match.
The problem with Man City will be determining the starting XI after Sergio Aguero and Raheem Sterling both went the full 120 minutes Sunday against Chelsea in the Carabao Cup. It wouldn't be surprising to see Leroy Sane jump into the squad again, but there are still questions since he hasn't played more than 74 minutes in his last four starts. Then again, he scored and assisted in 72 minutes at Huddersfield a month ago. The bold play would be to add Gabriel Jesus for this week and give him the armband. His hamstring issue is a question, but if he's ready, he should make the starting XI to give rest to Aguero. Otherwise, it's kind of a mess, and it would be hard to back others like David Silva or Kevin De Bruyne. If you think Aguero and Sterling are machines, captain them, but I don't think they're safe enough.
If you don't like that uncertainty, there's still Paul Pogba and Marcus Rashford, though the latter is battling an ankle injury. Their numbers have dropped off since recent highs, but they're at least getting shots on goal and creating chances in every match. The worry is that Crystal Palace have played much better defensively, with four clean sheets in their last seven home matches. Still, if you have Pogba or Rashford on the roster, they are at least in play.
If you want to mix things up, Raul Jimenez could be the best bet against Huddersfield. He's made the score sheet in four of his last five starts and Huddersfield are… Huddersfield. Playing at home doesn't change things for them, and Wolverhampton are rarely held scoreless. The success of Rondon and Ashley Barnes is fresh in our memories, but they play each other and that game is a toss up. It's hard to trust Barnes on the road against a real team, and the same goes for Rondon, even at home. If you want to ride Rondon, there are at least reasons to do so, as he's made the score sheet in his last three home starts.
At another time, Jamie Vardy would be in the conversation at home against Brighton, but he's struggled with form and has only three shots on goal in his last five starts. Gylfi Sigurdsson and Richarlison could draw some eyes since they play Cardiff, but I'm not taking that route. The most outlandish captain play may be to go with James Ward-Prowse or Pierre-Emile Hojbjerg against Fulham, who have allowed multiple goals in their last seven matches. Ward-Prowse is a little easier to trust only because of corners.