This article is part of our The Armband series.
The only bad thing about Gameweek 11 was that neither Man City nor Chelsea secured a clean sheet despite dominating their respective matches. That meant the captain-a-defender fad didn't work. If you chose to go with attackers like Sergio Aguero, Raheem Sterling or Marko Arnautovic, it was likely a good week. Alvaro Morata scored a brace, but I don't think anyone gave him the armband.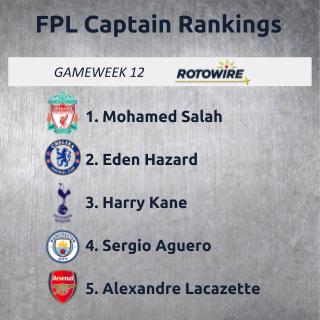 Gameweek 12 has another matchup that stands above the rest in Liverpool hosting Fulham, a side allowing almost three goals per match. There are questions surrounding the Reds after losing 2-0 at Crvena Zvezda on Tuesday, especially after Mohamed Salah and Sadio Mane both played a full 90. But it's hard to put too much into that result given Liverpool's 12 goals scored and one allowed at home in league play. This matchup should lead to at least three goals for the Reds if all goes well, and that means Salah will be the most popular captain. I'd still be tentative on Mane, who has two total shots in the last two matches, while Roberto Firmino doesn't have a shot on goal in his last three appearances, including a home start against Cardiff. If you want to go the defensive route, Andrew Robertson looks like the safest bet after Trent Alexander-Arnold was pulled at the half for ineffectiveness on Tuesday.
Spurs are the other team to consider playing away to a Crystal Palace side that has lost five of its last six matches in all competitions. If it weren't for those struggles, I'd be tentative on Harry Kane, but he has 10 shots on goal in the last two matches and should be plenty busy. I'm not sold on Christian Eriksen for captaincy just yet since he played in a slightly more defensive role against PSV in midweek, and I'm not sure he's ready for a full 90 minutes in back-to-back matches on a short week.
The other good news is that Eden Hazard should be back in the starting XI at home against Everton. The Toffees are playing well, but they allowed two goals at Man United a couple weeks ago and Hazard has been untouchable in the early season with 0.91 goals and 0.52 assists per 90 minutes in his 10 league appearances.
Unfortunately, the Gunners also have a good matchup against Wolves and that means having to decide between Alexandre Lacazette and Pierre-Emerick Aubameyang. My choice is still Lacazette because he's more likely to play a full 90, and he's also averaging more shots (3.13) and chances created (1.34) per 90 minutes. Aubameyang had back-to-back braces off the bench, but he has just one shot on goal in his last two starts.
I'm still comfortable backing any of the Man City attackers in the Manchester derby. In the last five gameweeks, United have allowed the fourth-most shots (74) and second-most shots on goal (30). Aguero should be the safest since he's almost guaranteed to get a couple shots on target at home, and he played a full 90 against Southampton last weekend, which is a good sign going forward. Elsewhere, Leroy Sane would be the differential captain if he starts again, while there will be others who hope Raheem Sterling continues his nice run of form.
Maybe the only other team I'd feel somewhat confident about is Leicester at home against Burnley, who have allowed 35 shots on goal in their last five matches. The Foxes are mediocre at its finest, scoring one goal in each of their last four, and that's the main worry in giving the armband to Jamie Vardy. He's getting a shot on goal in every start, but the final production hasn't been there. Marko Arnautovic is in a tougher spot away to Huddersfield, but he's been great this season with 3.74 shots and 1.50 chances created per 90 minutes. On the downside, Huddersfield play extremely defensively and only five total goals have been scored in their last five home matches.