This article is part of our The Armband series.
It wasn't too big of a surprise that Benjamin Mendy outscored the most popular captains last week. I've been saying for the last month that sometimes going with a defender is the best route for captaincy and that again proved correct. Five different players scored for Man City, Eden Hazard wasn't involved in either Chelsea goal and picked up a back injury, while Spurs and Everton both had unexpected scorers and Pierre-Emerick Aubameyang again came off the bench to produce more than Alexandre Lacazette. That one's partially my fault because Aubameyang has back-to-back braces since I dropped him.
The good news is that Mohamed Salah returned to the score sheet last weekend and did so again in midweek, so for anyone who still has him, now is a good time to give him the armband again. The unfortunate thing for Gameweek 10 is that Spurs and Man City are out of the running because they play each other and there's no telling how that match will turn out. You could say the same for Man United hosting Everton because you never know what the Red Devils are going to do, as evidenced by Jose Mourinho not making a single sub in Tuesday's Champions League match against Juventus.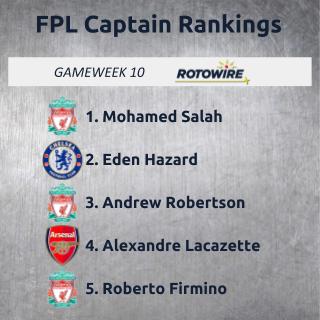 Because of that, I'm returning to Liverpool in a home match against a Cardiff side that has scored one away goal and allowed more than two per match in league play. Salah is the easiest player to trust, though Sadio Mane and Roberto Firmino both found the back of the net Wednesday. The difference is that Salah's getting more opportunities than the other two, with 1.77 shots on goal and 2.00 chances created per 90 minutes in league play. If you like defenders, this is a spot for Andrew Robertson, who has at least five fantasy points in all but two matches this season. He doesn't have the same upside as Mendy, but a clean sheet is all he needs to be worth selection.
If Hazard plays, he's in the conversation because while Burnley are better at home, they've already lost 2-0 to Man United and 3-1 to Watford at Turf Moor. I'd throw Marcos Alonso into the conversation because Chelsea have a clean sheet in their last two matches, and while he hasn't made the score sheet in the last five, he has five chances created and five shots in that period.
Arsenal are in a similar situation against a Crystal Palace team that hasn't scored in the last two matches and oddly hasn't scored in four home matches this season. It'd be hard to give the armband to Aubameyang or Mesut Ozil, but those two have been the best fantasy performers of late. If you aren't scared of Lacazette, he's still made the score sheet in six of his last seven starts. Hector Bellerin has three assists this season, but I don't trust the Arsenal back line to get a clean sheet.
The good news is that some of the smaller clubs are in great spots, whether it's Watford (v. Huddersfield) and Leicester (v. West Ham) or Fulham and Bournemouth playing each other. Fulham can't stop anyone defensively, but I'm still keen on Aleksandar Mitrovic even though he didn't have a shot last match. That should change in this one since he's still averaging 3.78 shots per 90 minutes, including 1.44 on target. But going against the Cottagers may be a better bet because they've allowed 12 goals in the last three matches, including four by Cardiff. The problem is deciding between Joshua King and Callum Wilson, and I don't have an answer. In the last five matches, King has 10 shots (five on target) and six chances created, while Wilson has seven shots (three on target) and 10 chances created. I'm putting King slightly above Wilson because he's on the ball more and takes penalties.
Jamie Vardy is the only other player I'd consider for captaincy because he's still averaging close to two shots on target per start not played at the Emirates or with a stomach virus. James Maddison could be in the conversation, but I still trust Vardy a little more since he is Leicester's goal poacher. If you want to captain someone from Watford, that's on you because I have no desire to back one of their defensive midfielders to make the score sheet again, even against Huddersfield.