The time has finally come. Online sports betting has arrived in New York, and bettors can register at one of four online sportsbooks and begin placing bets this Saturday morning.
Though in-person sports betting has been legal since 2019, New York's Gaming Commission announced Thursday that online operators may begin taking bets after 9 a.m. ET on Saturday. If you're within state limits and have been waiting for this moment, here's what you need to know to make sure you're ready for Saturday morning.
Which NY Sports Betting Operators Are Live?
New York bettors will have initial access to four different online sportsbooks on Saturday, with five more to come. Those first four are Caesars Sportsbook, DraftKings, FanDuel and BetRivers. That comprises four of the largest operators in the online sports betting industry. Both DraftKings and FanDuel also have a daily fantasy sports component that bettors will be able to use. Caesars Sportsbook and BetRivers will also provide bettors with unique perks and promotions. We can't think of a better quartet of online sportsbooks for what is now the largest online sports betting market in the United States.
What Are the Best New York Sports Betting Promo Codes?
The best NY promo codes for one bettor may be entirely different for another. Also, bettors can and should sign up for multiple sportsbooks to take advantage of all sign-up bonuses that New York sports betting sites are offering. But if you're looking for the sign-up offers most relevant to you and what you want your betting experience to look like, we've broken them down for you here.
Caesars Sportsbook New York App

If you're looking to max out your free bets upon sign up, Caesars Sportsbook New York has you covered with the promo code ROTONEW. In addition to a $300 early sign-up offer – that's a $300 free bet when you register for a new account in NY – it is matching bettors' first deposit up to $3,000. That means new users will be guaranteed up to $3,300 in their account. That match up to $3,000 is only available on your first deposit, so bettors will want to take full advantage of it.
It is one of the best welcome offers we have ever seen. And on top of the free bets, Caesars Sportsbook New York is also giving away a free NBA jersey (in the form of a $150 NBA.com gift card) to all players who place $100 in qualifying bets on NBA games (minimum -200 odds). Be sure to use the promo code ROTONEW!
Claim your Caesars Sportsbook New York offer here!
FanDuel New York App

New users are eligible for a risk-free bet up to $1,000. If your first real money bet loses, FanDuel will reimburse bettors the original amount wagered in the form of a free bet. It's a great sign-up bonus for bettors who plan on making a large initial deposit. If you don't want to use that offer, you can bet $5 on Georgia or Alabama to win the national title game Monday and win $150 cash if you get it right. You can't use both offers, and no promo code is needed.
Claim your FanDuel New York offer here!
DraftKings New York App

All new players at DraftKings New York are eligible for a pair of promotions, and you won't need a DraftKings NY promo code to score them. The first: Bet $5 on any NFL, NBA or college football team to win (the national title game is Saturday) and win $200 in free bets if you are correct.
The second offer is a 20% deposit match up to $1,000. To take full advantage of the promotion, bettors will need to deposit $5,000. The deposit match will arrive in the form of a free bet, but it also has a 25x playthrough requirement.
Claim your DraftKings New York offer here!
BetRivers New York App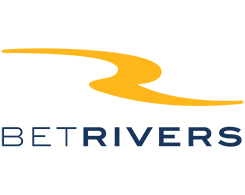 All new users will receive a first bet match up to $250 with the promo code NY250. Win or lose, BetRivers will match the first real money bet you make on the online sportsbook in the form of a free bet. We like this offer for bettors who aren't trying to deposit too much money but still want the insurance of a bet match that guarantees free money in your account.
How Do I Sign Up for a NY Sports Betting App?
The sign-up process differs at each online sportsbook in New York, but the information you'll need is pretty much the same. You will need to provide your name, email, address and phone number at all sportsbooks. Some online sportsbooks will require you to create a unique username, and you'll of course need a password for each operator. If a username isn't required, your email address is what you'll use to log in each time.
More importantly, all operators will require you to verify that you are located in New York by downloading a Geolocator app on your phone or by allowing your desktop browser to use your location. There's really no getting around it, and it's a requirement to both register and to place bets.
Online sportsbooks will also require you to provide the last four digits of your Social Security number to verify your age. Bettors in New York must be 21 years old to place bets at any online sportsbook.
How Many NY Sports Betting Apps Can I Sign Up For?
As many as you want! Though bettors will want to compare and contrast different online sportsbooks to see which suit them best, there's no limit to how many you can sign up for. We recommend signing up for as many as possible. Why? For starters, all New York online sportsbooks will have sign-up bonuses that act as free money. There's no cost to signing up for any sportsbook other than the deposits you need to make to actually place bets.
What's more, sportsbooks have different odds for the same bets, meaning you can shop around for the best value of a game you're interested in betting. All online sportsbooks in New York will be offering great promotions and perks for their users in the early going, so we can't stress enough the importance of signing up for multiple sportsbooks. It can only benefit your online sports betting experience.
When Will More NY Sports Betting Apps Launch?
Five more online sportsbooks are in the process of getting final approval to accept sports bets, and we expect they will be launching in the very near future. They include BetMGM, PointsBet, WynnBET, Bally Bet and Resorts. Once the first nine are live, more could be approved down the road.