This article is part of our Team Previews series.
Detroit Lions

Both the coach and GM may be without jobs if the Lions don't get back to the playoffs. That's probably why most of Detroit's draft picks seem ready to contribute right away. If Matthew Stafford can stay healthy, there's enough uncertainty elsewhere in the NFC North for the Lions to make some noise.
Offseason Moves
Key Acquisitions
In line to form a running back tandem with Kerryon Johnson.
Neither Marvin Jones nor Danny Amendola are under contract past 2020.
Small but quick, he could add a new dimension to the backfield.
Possession receiver could push for the No. 4 or 5 spot on the depth chart.
A pricey free agent, he should be an upgrade at right tackle.
Detroit finally has an elite linebacker on its roster.
Key Losses
Departure of last year's No. 3 tight end could open snaps for Isaac Nauta.
The 29-year-old effectively was replaced by No. 3 pick Jeff Okudah.
A Look Under the Hood
Head Coach: Matt Patricia (Year 3)
Offensive Coordinator: Darrell Bevell (Year 2) - West Coast/Air Coryell hybrid
Defensive Coordinator: Cory Undlin (Year 1) - 4-3 scheme
2020 Vegas Projected Wins: 6.5 (T-25th)
2019 Record: 3-12-1
2019 Points Scored: 341 (T-18th)
2019 Points Allowed: 423 (26th)
2019 Point Differential: -82 (24th)
2019 Run-Play Rate: 39.9 percent (19th)
2019 Situation-Neutral Pace: 30.12 seconds per play (12th)
2019 Offensive Snaps: 1,021 (12th)
2019 PFF O-Line Ranking: No. 11
Projected 2020 Depth Chart
QB: Matthew Stafford / Chase Daniel / David Blough
RB: D'Andre Swift / Kerryon Johnson / Bo Scarbrough / Jason Huntley / Ty Johnson
WR1: Kenny Golladay / Marvin Hall
WR2: Marvin Jones / Quintez Cephus
WR3: Danny Amendola / Geronimo Allison
TE: T.J. Hockenson / Jesse James / Isaac Nauta / Hunter Bryant
O-Line: LT Taylor Decker / LG Joe Dahl / C Frank Ragnow / RG Jonah Jackson / RT Halapoulivaati Vaitai (RotoWire Rank: No. 16)
Kicker: Matt Prater
Top Storylines
A Team Put Together in Patricia's Image
The transformation is nearly complete. Entering Year 3 of the Bob Quinn-Matt Patricia partnership, the Lions feel like the Patriots of the NFC without all of the championship banners. That's probably what you should expect when you hire New England's Director of Pro Scouting as the GM and its defensive coordinator as the head coach, and then give them a few years to fiddle with the roster. But how many chances should the pair get to not finish with a worse record than last year?
Few teams have experienced more roster turnover in two-plus seasons. But the Lions may be at a point where there can be no more excuses about having the right players to carry out Patricia's plan, which seems pretty clear at this point: develop a strong O-line and a diverse backfield to control the clock while keeping both Matthew Stafford upright and a versatile defense off the field. Simple enough, right?
Only time will tell whether this current roster will execute that plan well, but, on paper, it seems like Patricia should have enough to get the job done. His quarterback is still playing at a high level. His line is strong. His backfield is as diverse as any. His receivers are solid. The entire defense is retooled. If Patricia can't deliver a playoff berth with what he has now, ownership might consider a change in leadership.
Stafford Is Back to Health
Detroit was 3-4-1 in games started by Matthew Stafford last season, and three of those four losses were decided by seven points or less. Then a fractured back forced Stafford to miss his first start since 2010, and Detroit proceeded to watch a combination of David Blough and Jeff Driskel lose eight consecutive games.
Given where the team stood when Stafford went down, the Lions still would've needed a bit of luck to reach the playoffs, even if he avoided injured reserve. But finishing the year with a record of 3-12-1? That wasn't representative of last year's roster with a healthy Stafford.
Stafford might've been the NFL's most underrated player over the first half of the season, nearly leading the league with 41 passes of 20-plus yards – almost as many as he had through 16 games in 2018 (44) – while setting a 16-game pace of 4,998 passing yards, 38 touchdowns and 10 interceptions.
He did all this while throwing at a career-high clip of 8.6 yards per attempt, which was second only to Ryan Tannehill, but Stafford attempted more passes in eight games (291) than Tannehill did in 12 (286), and Stafford didn't have the league leader in rushing yards to set up any play action. If this year's attempt at building an effective run game actually works, it's conceivable that Stafford could take his game to an even higher level.
Will There Be a Workhorse Back?
It's not right to call Kerryon Johnson a bust at this point, but his flashes of brilliance have been outweighed by a lack of durability. Through two seasons, he's missed 14 of 32 games. So, despite Detroit trading up to draft him in the second round two years ago, adding high-quality depth to the running back room was a smart thing to do, especially given the recent investments made in the offensive line.
However, 2020 second-round pick D'Andre Swift is much more than a depth player, and it's possible he might be a better prospect than Johnson as both a runner and a receiver. In the end, Swift also stands 5-8 and had a history of fumbles at Georgia, so a workhorse role may not be in the cards as a rookie.
Instead, the Lions backfield has the makings of a full-blown committee similar to what, you guessed it, New England has done with Sony Michel, James White and Rex Burkhead the past two seasons. Only in Detroit, Swift and Johnson presumably will be serving as the primary ballcarriers with the 235-pound Bo Scarbrough on hand as a short-yardage specialist and speedy fifth-round rookie Jason Huntley ready to be deployed in creative ways.
It's possible there won't be a more annoying RB situation for fantasy purposes in 2020, though taking a chance on Swift or Johnson could pay dividends if the other were to get hurt.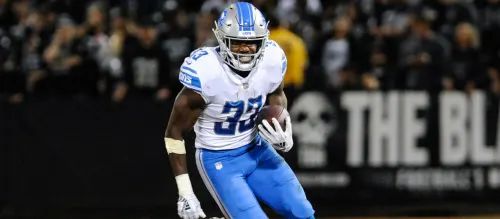 Perhaps only an injury-free season will keep Kerryon Johnson ahead of rookie D'Andre Swift in the RB pecking order.
Barometer
⬆️ Rising: TE T.J. Hockenson
Some tight ends, like George Kittle and Travis Kelce, broke out in their second seasons. Others, like Rob Gronkowski, absolutely exploded. Hockenson, the highest-regarded prospect of the group, is up to bat next.
⬇️ Falling: RB Kerryon Johnson
He should remain involved in the offense no matter what, but no one was hurt by the selection of D'Andre Swift more than Johnson. Johnson's only hope may be if the rookie struggles in a critical area, like pass protection.
😴 Sleeper: QB Matthew Stafford
Devalued by most of the fantasy community, Stafford was having a career year before getting hurt after eight games. With an improved offensive line and run game, it's possible he could pick up where he left off last season.
🌟 Pivotal Player: Kenny Golladay
Despite quarterback Matthew Stafford missing half of the season, Golladay became a Pro Bowler in 2019 on the back of 1,190 receiving yards and 11 touchdowns. Golladay is in a contract year but seemingly not inclined to hold out for a new deal. If injuries don't get in the way, the 26-year-old could put up numbers like the league's best.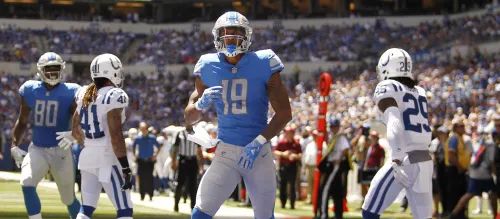 Kenny Golladay has approached the upper tiers of NFL wide receivers through three years.