Zalgiris at Efes
Date: 2/6
Time: 6:30 pm CET
Game Preview
Efes, the top team in the league, will be tested in Round 24 by a surging Zalgiris squad.
The Turkish team has been virtually unstoppable of late, coming into Thursday's contest riding an eight-game win streak, during which they have outscored opponents by 104 points. They're led by Shane Larkin – the frontrunner for the MVP award – who is averaging a league-leading 21.8 points ppg. His top lieutenant is Vasilije Micic, who fills the more traditional point guard role for Efes. Both players will be complemented by a veteran bunch that has gotten the job done all season.
Visiting Zalgiris owns a 9-14 record despite a point differential that's tied for sixth best in the league. Their record is starting to match their point differential though, though, with the team going 6-2 over the last eight Rounds. Zalgiris continues playing without leading scorer Marius Grigonis (ankle) and will count on Lukas Lekavicius, Jock Landale and Zach LeDay – all averaging double figures – to shoulder the scoring load. The glue that holds it altogether for the Lithuanian team is Thomas Walkup, who is contributing a well-rounded 9.8 points, 3.8 rebounds, and 5.1 assists per contest. He will play an even more important role Thursday, as he and his fellow backourt mates will be tasked with slowing down Efes' talented guards.
Zalgiris kept it close last time these teams met in Round 14 but ultimately fell 74-68. They're a different team this time around, but Efes is playing with more confidence than ever and will be tough to beat in the Sinan Erdem Dome, where they have lost just one EuroLeague game since dropping their home opener in Round 1.
Injuries
Anadolu Efes
Bryant Dunston - OUT - Arm
1/19 2:23 AM IST - Head coach Ergin Ataman said Friday that Dunston (arms) could return to action after the Turkish Basketball Cup in mid-February, according to Hizli Hucum. Dunston's injury has sidelined him since early November, and based on Ataman's comments it will keep him out at least another month. Dunston could have a chance to return in Efes' Round 25 matchup with Bayern Munich on Feb. 21, but it remains to be seen if he will have enough practice time built up by then. Tibor Pleiss and Sertac Sanli will continue sharing the minutes at the center position until Dunston is back in action.
Zalgiris
Marius Grigonis - OUT - Ankle
12/3 11:42 PM IST - Grigonis will undergo surgery on his injured ankle and is expected to be out about three months, according to Zalgiris' official website. Grigonis was able to play through the pain for some time, but he was unable to overcome the injury, so it was ultimately decided to send him under the knife. Grigonis is second on his team in scoring in EuroLeague play, so Zalgiris will be without one of its top players for several months. KC Rivers and Thomas Walkup are the favorites to fill the void until Grigonis returns.
Jock Landale - GTD - Illness
2/5 9:58 PM IST - Landale (illness) is expected to play Thursday against Efes, according to Hizli Hucum. Landale was held out of Zalgiris' Round 23 game Tuesday because of his illness, but it appears that will be the extent of his absence. Landale's availability Thursday will be key for a streaking Zalgiris team looking to stay hot but taking on the top team in the league.
Zalgiris Probable Starters
G - Thomas Walkup
G - Arturas Milaknis
F - Edgaras Ulanovas
F - Paulius Jankunas
C - Jock Landale
Anadolu Efes Probable Starters
G - Vasilije Micic
G - Shane Larkin
F - James Anderson
F - Chris Singleton
C - Tibor Pleiss
Top Picks
Shane Larkin, IST - Efes' star is averaging 21.8 points, 4.0 assists, 3.3 rebounds, 3.2 threes and 1.2 steals per game while shooting 54.3 percent from the field, 51.7 percent from three and 88.9 percent from the line. He was stymied the last time the teams played, finishing with just six points on 2-of-8 shooting, but chances are that won't happen again.
Vasilije Micic, IST - Micic is an admirable complement for Larkin. On the season, he's putting up 14.1 points, 2.6 rebounds, 5.7 assists, and 2.2 threes per game.
Jock Landale, ZA, - Landale is posting 10.8 points, 4.6 rebounds and 1.0 assists per game on the year. He did not play Tuesday because of an illness but is expected back for this one, which is good news considering Zalgiris will need all available hands on deck.
Lukas Lekavicius, ZAL - Lekavicius has been Zalgiris' top offensive contributor with Grigonis sidelined. Despite playing mainly off the bench, he's averaging 16.1 points per game since Round 17.
Captaincy Options
Dream 11 Team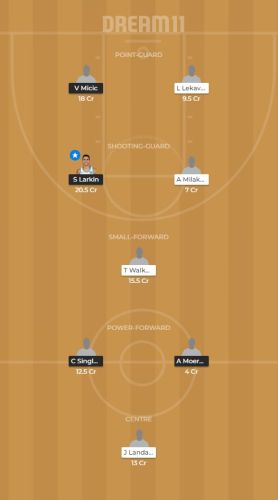 Grand League Combination
Larkin, Micic, Landale, Moerman
Small League Combination
Larkin, Micic, Walkup, Lekavicius
The author(s) of this article may play in daily fantasy contests including – but not limited to – games that they have provided recommendations or advice on in this article. In the course of playing in these games using their personal accounts, it's possible that they will use players in their lineups or other strategies that differ from the recommendations they have provided above. The recommendations in this article do not necessarily reflect the views of RotoWire.