Efes at CSKA
Date: 2/4
Time: 6:00 pm CET
Game Preview
Round 23 kicks off with a high-profile matchup between teams perched atop the EuroLeague standings. First-place Efes, riding a seven-game win streak, travels to Moscow to take on CSKA, who have won five in a row to move into a tie for second. The Turkish club will have revenge on its mind, as CSKA handed them their last loss, eking out a 81-80 win in Round 15.
The focal point of the matchup will be the battle between MVP frontrunner Shane Larkin – the league's leading scorer – and Mike James, who sits third in points per game. Both players have been particularly hot since the calendar flipped to 2020, with Larkin averaging 25.7 ppg and James 24.0.
Supporting Larkin is a versatile cast of players, highlighted by fellow backcourt mate Vasilije Micic, who just returned from injury. Larkin and Micic receive the headlines for Efes, but helping push the club into first place have been Krunoslav Simon, Tibor Pleiss, Chris Singleton, Rodrigue Beaubois, and Sertac Sanli, who are all averaging at least 8.1 points per contest.
The Russian team owns a strong supporting cast as well, as James is complemented by six players averaging 7.6 ppg. Darrun Hilliard is the only other CSKA player averaging double figures, but all of Johannes Voigtmann, Kyle Hines, Howard Sant-Roos, Daniel Hackett, and Janis Strelnieks have done their part as well.
CSKA has proven they can beat Efes and they will be playing at home Tuesday, but they'll need to be on top of their game to claim a second victory against an Efes team outscoring its opponents by a stellar 9.6 points per game in EuroLeague play.
Injuries
CSKA Moscow
Will Clyburn - OUT - Knee
1/24 10:15 PM IST - Clyburn's recovery from a torn ACL is going as planned, according to CSKA's official Twitter account. The tram did not provide any other details regarding Clyburn's status, but it appears he has avoided any setbacks up to this point. He is still expected to miss the entire season but could be ready for Round 1 when the next campaign begins.
Janis Strelnieks - GTD - Hamstring
2/4 12:32 AM IST - Strelnieks (hamstring) has resumed practicing, according to CSKA's official website. Strelnieks has missed nearly a month of action after injuring his hamstring in Round 17, but it appears his absence is about to come to an end. He will have a chance to take the court in Tuesday's matchup with Efes.
Andrey Vorontsevich - OUT - Ankle
2/4 12:35 AM IST - Vorontsevich (ankle) is still not taking part in team drills at practice, according to CSKA's official website. A firm timetable for Vorontsevich's return to action has not been announced, but with him still limited to individual work at practice, he will not be ready for Tuesday's matchup with Efes and is questionable at best for Thursday's game against Olympiacos.
Anadolu Efes
Bryant Dunston - OUT - Arm
1/19 2:23 AM IST - Head coach Ergin Ataman said Friday that Dunston (arms) could return to action after the Turkish Basketball Cup in mid-February, according to Hizli Hucum. Dunston's injury has sidelined him since early November, and based on Ataman's comments it will keep him out at least another month. Dunston could have a chance to return in Efes' Round 25 matchup with Bayern Munich on Feb. 21, but it remains to be seen if he will have enough practice time built up by then. Tibor Pleiss and Sertac Sanli will continue sharing the minutes at the center position until Dunston is back in action.
Anadolu Efes Probable Starters
G - Vasilije Micic
G - Shane Larkin
F - Krunoslav Simon
F - Chris Singleton
C - Tibor Pleiss
CSKA Moscow Probable Starters
G - Mike James
G - Howard Sant-Roos
F - Nikita Kurbanov
F - Johannes Voigtmann
C - Kyle Hines
Top Picks
Mike James, CSK - James has nearly kept pace with Larkin in the scoring department, averaging a career-best 21.1 points per contest. He is also chipping in 3.4 rebounds, 4.3 assists and 2.9 threes per game while shooting 44.1 percent from behind the arc. James lit up Efes last time these teams matched up, making 10-of-12 shots and scoring 28 points.
Shane Larkin, IST - To demonstrate just how hot Larkin is, he failed to win Round MVP last week for the first time since Round 17. He hardly had a poor game, though, raising his scoring average for the fifth game in a row. He was held relatively in check last time these teams met, putting up 18 points and four assists. He has been sizzling since, though, averaging 24.1 points, 4.1 rebounds, 4.4 assists, 1.3 steals, and 4.1 threes over the last seven Rounds.
Vasilije Micic, IST - Micic was a bit quiet in Round 22, but he may have simply been easing back into action after missing the previous four Rounds. Prior to his injury Micic averaged 14.2 points, 2.6 rebounds, a team-leading 5.8 assists, 1.2 steals and 2.3 three-pointers per game. When he is at full speed he is capable of big numbers, scoring at least 20 points five times and reaching double digits in assists twice.
Howard Sant-Roos, CSK - Sant-Roos joined CSKA only a few weeks ago, but it did not take him long to become a key contributor for the club. Over the last two games, he averaged 11.5 points, 4.0 rebounds, 3.0 assists, and 3.5 steals. He started for the first time in Round 22, and given his success he could stick in that spot.
Captiancy Options:
Dream 11 Team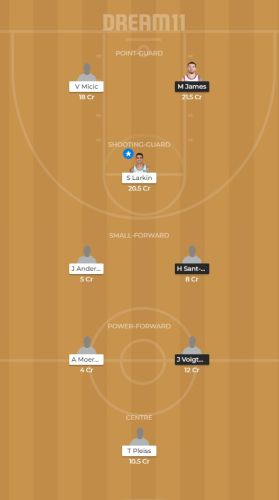 Grand League Combination
Larkin, James, Voigtmann, Sant-Roos
Small League Combination
Larkin, James, Micic, Voigtmann
The author(s) of this article may play in daily fantasy contests including – but not limited to – games that they have provided recommendations or advice on in this article. In the course of playing in these games using their personal accounts, it's possible that they will use players in their lineups or other strategies that differ from the recommendations they have provided above. The recommendations in this article do not necessarily reflect the views of RotoWire.