This article is part of our DFS College Basketball series.
League play is in full swing in just about every "power" conference, and DraftKings is celebrating with an 11-game slate featuring a $10k Big Jam with $2k to first. Let's take a look at the day's implied totals before jumping into the specific plays.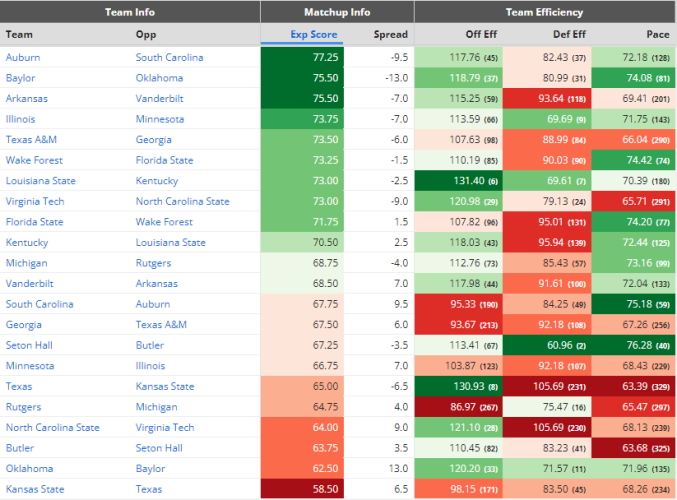 Top Players

Kofi Cockburn, F, Illinois ($9,000 DK)
The Illini are expected to put up over 70 points in today's game, giving us a team full of intriguing DFS options. Cockburn is my key player in this matchup because Minnesota actually ranks dead-last in the country in terms of its offensive rebounding rate. Cockburn, as most college hoops fans know, is one of the most prolific frontcourt players in the Big Ten, so he stands to significantly benefit from this matchup. Illinois has a stout defense, currently the fourth-best among Big Ten Teams in terms of KenPom's adjusted efficiency ratings, so I'm expecting Cockburn and company to collect even more rebounds than usual, cleaning up any and all missed shots by Minnesota's offense which ranks third-worst in the Big Ten in terms of its adjusted efficiency rating. Cockburn might be pricey today, but his ceiling is as big as it gets, and there's a decent chance he'll reach it today given the matchup.

Wendell Green, G, Auburn ($7,400 DK)
Wendell Green has been scorching hot lately, scoring 12-plus points in five straight games, including 15 points in Auburn's most recent game against LSU, who currently boast the best adjusted defensive efficiency rating in the country. Additionally, Green is an exceptional passer, currently posting the 42nd best assist rate in the country. Last season at Eastern Kentucky, Green recorded the third-highest assist rate among all OVC players during conference play, so we can expect him to continue racking up the assists. Green has a great all-around game, as he even recorded a double-double with points and rebounds back on Dec. 22 against Murray State. All signs indicate that Green should once again play a big role for the Tigers in what figures to be a high-scoring affair.
Middle Tier

Quenton Jackson, G/F, Texas A&M ($7,100 DK)
Georgia has the worst defense on the slate, per KenPom's adjusted efficiency ratings, so the Aggies have a chance at putting up a ton of points today. Even though he might not start, Quenton Jackson is a great option if you're looking to fade the Bulldogs. Jackson currently leads the team in scoring by a decent margin while effectively tied for third-most minutes on the team. Jackson easily leads the team in usage rate, taking over 30 percent of his team's shots when on the court, so we can expect him to once again take plenty of shots in today's contest. It's also worth pointing out that Georgia is noticeably weaker against defending two-point shots, allowing opponents to make 51.6 percent of two-point attempts, which ranks in the bottom 30 percent of the country. Jackson leads the Aggies in two-point attempts taken this season, so I'm expecting him to test Georgia's interior defense early and often. All in all, Jackson is in a great spot to have a big game today.

Jaylin Williams, F, Arkansas ($5,600 DK)
This pick is all about the matchup. Arkansas has a clear rebounding edge over Vanderbilt, with the Razorbacks posting better team offensive and defensive rebounding rates up to this point in the season, per KenPom. Jaylin Williams easily leads the Razorbacks in rebounding, so he should have a big day on the glass. Williams doesn't always take a lot of shots, so his scoring and usage rate don't stand out, although he might not need many points in this matchup if he can continue stuffing the box score with other stats. In addition to rebounding, Williams is also an exceptional shot-blocker and passer, with the former likely to come into play, as Vanderbilt's offense has been noticeably vulnerable to having its shots blocked this season. In 15 conference games last season, Williams recorded the ninth-best blocking rate among all SEC players. Williams might not put up a ton of points today, but his other stat totals should be enough to help generate value at a modest salary.
Value Plays

Nahiem Alleyne, G/F, Virginia Tech ($4,400 DK)
NC State has the second-worst defense on the slate, per KenPom's adjusted efficiency ratings, so it's not a bad idea to fade the Wolfpack. Virginia Tech's primary player is Keve Aluma, but if you're looking for a cheaper option and aren't afraid to gamble, I would suggest taking a flier on Nahiem Alleyne. He somehow didn't score any points at Duke back Dec. 22, the team's most recent game, but he has a long track record that can't be ignored. Last year in Virginia Tech's NCAA tournament game against Florida, Alleyene scored 28 points in 38 minutes, so he's more than capable of having a huge game when called upon. He has tremendous shooting abilities, but his shots aren't falling into the basket quite as frequently as in the past. In his first two years before this season, Alleyene had made 91-of-229 three-point attempts, effectively a 40-percent shooter in his career. It's only a matter of time before he goes on a hot streak. Alleyene still leads the team in minutes played this season, so he's a sure bet to have plenty of opportunities to break out of his slump. A home game against NC State might do the trick. I like our odds.

Bryce Aiken, G, Seton Hall ($3,700 DK)
It's somewhat surprising to see Bryce Aiken's salary is so low after what he did on New Year's Day. Against Villanova in Seton Hall's most recent game, Aiken put up 22 points in 31 minutes. Aiken has scored in double figures in four straight games, including 22 points against Rutgers back on Dec. 12. In total, Aiken has scored double digits in 7-of-11 games played this season. Butler's defense isn't bad by overall standards, but it's below average in terms of the Big East conference, per Ken Pom's adjusted efficiency ratings, so Aiken shouldn't have too much trouble continuing his streak of productivity. Aiken has now played 28-plus minutes in three straight games, so it appears the coach is making sure he stays involved in the game, even though he's not a regular starter. Either way, Aiken shouldn't have any trouble providing a nice return at today's salary.
The author(s) of this article may play in daily fantasy contests including – but not limited to – games that they have provided recommendations or advice on in this article. In the course of playing in these games using their personal accounts, it's possible that they will use players in their lineups or other strategies that differ from the recommendations they have provided above. The recommendations in this article do not necessarily reflect the views of RotoWire. Steve Peralta plays in daily fantasy contests using the following accounts: FanDuel: Buddusky, DraftKings: Buddusky24.