This article is part of our DFS College Basketball series.
Today's college hoops slate is a doozy. We have both Iowa and Gonzaga on the board, and if those powerhouses weren't enough, Ohio State and Michigan are also joining the party.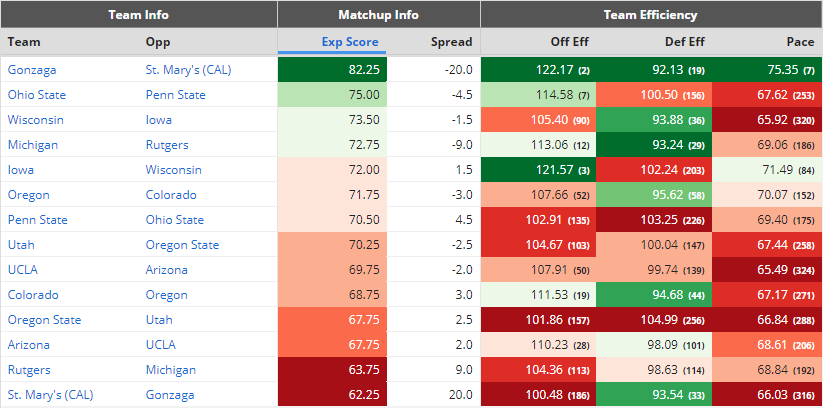 Targets
Jalen Suggs, G, Gonzaga ($8,600 DK, $8,000 FD)

Gonzaga, unsurprisingly, is projected to score the most points of any team on the slate. Any of the Bulldog starters are worthy options, although I like Suggs because of the matchup. St. Mary's defense is noticeably better at guarding against two-point shots, so someone like Drew Timme might end up passing more due to a tougher interior defense. Both players could very well provide huge returns, although if I had to choose between Timme and Suggs, I'd take the latter.
E.J. Liddell, F, Ohio State ($7,300 DK, $7,000 FD)

Penn State's defense is the worst in the conference at guarding against two-point baskets. This is encouraging news for Liddell, who has turned into one of the most productive frontcourt players in the Big Ten. Ohio State is expected to score over 75 points tonight, and Liddell should have a starring role in what should be a high-scoring affair.
Micah Potter, F, Wisconsin ($5,300 DK, $5,100 FD)

Trying to pick a Badger often feels like roulette, and today is no different. I'm spinning the wheel and taking a chance on Potter. Iowa's defense is ranked last in the Big Ten in terms of adjusted efficiency, so any one of the Badgers has a chance to have a monster day. Potter leads the team in usage rate and rebounding, a solid prospect assuming he can stay on the court a reasonable amount of time.
FanDuel Exclusive
Justin Gorham, F, Houston ($6,000)

Houston has the highest offensive rebounding rate in the country, thanks in large part to Gorham, who has the seventh-best rate as an individual. This is notable because Wichita State is one of the worst defensive rebounding teams in the country. Gorham couldn't ask for a better matchup. Houston already played Wichita State back on January 6, and Gorham posted a double-double while also earning KenPom's "MVP" honors for having the best overall performance in the game. I don't see any reason to think he can't do it again.
Fades
Matthias Tass, F, St. Mary's ($6,800 DK, $5,500 FD)

The Gaels are expected to score the fewest points of any team on the slate, making them a highly unappealing option on such a loaded board. The Bulldogs' defense is ranked sixth-best in the country in terms of adjusted efficiency, so taking any St. Mary's player is a tough sell. Tass, in particular, might struggle because he relies on inside scoring, and Gonzaga is the best in the conference at guarding against two-point baskets.
Myles Johnson, F, Rutgers ($7,600 DK, $6,800 FD)

The Scarlett Knights are facing a buzz saw, and I'm not sure they'll clear the hurdle. Michigan's defense is ranked eighth-best in the country in terms of adjusted efficiency, and, perhaps more impressively, Michigan has the best defense in the Big Ten since conference season started. And to top it all off, Michigan's defense is best in the country at guarding against two-point baskets. This is a major issue for Johnson because, as one might guess, he hasn't attempted any three-point shots all season.
Azuolas Tubelis, F, Arizona ($7,000 DK, $5,200 FD)

Tubelis has a severe case of salary discrepancy. His true DFS value is probably somewhere in the middle, but, either way, Tubelis isn't an ideal DFS target today. UCLA's had the fourth-best defense in the Pac-12 since conference play started, and the Bruins also have strong rebounding rates, effectively neutralizing any rebounding advantage that Arizona might normally have against an average opponent. If you're playing FD, Tubelis isn't a bad flier, otherwise, I'm staying away.
The author(s) of this article may play in daily fantasy contests including – but not limited to – games that they have provided recommendations or advice on in this article. In the course of playing in these games using their personal accounts, it's possible that they will use players in their lineups or other strategies that differ from the recommendations they have provided above. The recommendations in this article do not necessarily reflect the views of RotoWire. Steve Peralta plays in daily fantasy contests using the following accounts: FanDuel: Buddusky, DraftKings: Buddusky24.