This article is part of our DFS College Basketball series.
Today brings us a smaller a slate of games. FanDuel is offering three-game contests, while DraftKings is throwing in three additional games. Either way, The Oregon-ASU game has the highest over/under number on the board so that's where we'll start today's preview.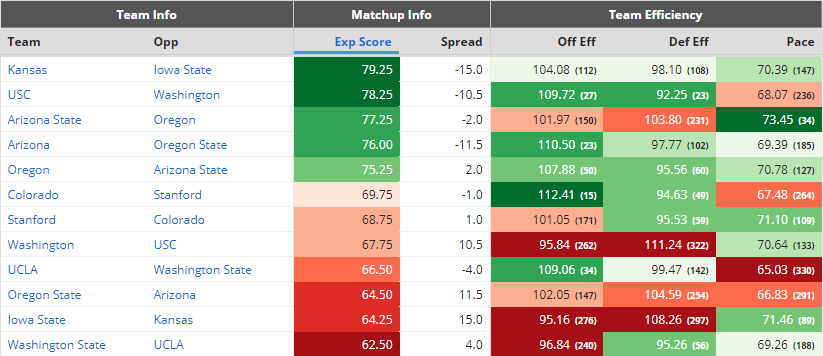 Targets
Will Richardson, G, Oregon ($5,800 DK, $5,700 FD)

This will be Richardson's third game of the season, perhaps the only reason explaining his low salary. Before he was injured, Richardson was named to the preseason All-Pac-12 First-Team, underscoring his lofty expectations. Last season, Richardson finished conference play with the ninth-best offensive efficiency rating while making 40 percent of his shots from behind the arc (21-of-52). In just two games this season, Richardson is using 28 percent of possessions, and that usage could rise in today's contest with guard Chris Duarte expected to miss the game. Long term, we might never see Richardson with a lower salary so now's the perfect time to take him.
Jalen Wilson, F, Kansas ($7,100 DK, $5,600 FD)

I went back and forth between Wilson and David McCormack, but ultimately Wilson has a better chance at delivering value given the lower salary. Kansas is an obvious target in this situation since it's expected to score the most points of any team in the common pool of games, but the other important note is that Kansas has a major rebounding advantage over Iowa State. The Cyclones are the worst rebounding team, both offensively and defensively, in all the Big 12 and it's not close. Wilson and McCormack should put up huge numbers today considering the opposition.
Evan Battey, F, Colorado ($4,300 DK, $4,900 FD)

Battey played just 12 minutes in his previous game, the fewest minutes he's played in a game since his freshman season. DraftKings drastically lowered his salary as a result of his limited production, giving us an opportunity to take advantage. The previous game, it appears, was simply the result of Colorado taking a big lead, and then choosing to rest Battey as he was nursing a minor leg injury. Assuming Battey starts, and barring any notable updates, I'm expecting a normal workload from Battey in what should be a competitive matchup. Through 13 conference games this season, Battey has the third highest offensive efficiency rating in the Pac-12 in addition to posting the tenth best offensive rebounding rate. I would be remiss if I didn't mention that Battey already put up 32-plus fantasy points when he played Stanford a few weeks ago.
DraftKings Exclusive
Evan Mobley, F, USC ($9,500)

Washington has the worst defense and the worst defensive rebounding rate in the conference. Evan Mobley (and his brother Isaiah Mobley) couldn't ask for a better matchup. USC is expected to score the most points of any team in the DK contests, so the Mobley brothers, and potentially Tahj Eaddy or Drew Peterson, have a shot at offering significant value considering they have one of the most favorable matchups of the night.
Fades
Michael O'Connell, G, Stanford ($7,000 DK, $5,700 FD)

O'Connell has been hit-or-miss this season, and today doesn't seem like a great day for rolling the dice. Colorado has the fourth-best defense in the Pac-12 in terms of adjusted efficiency since conference season started, and it also forces opponents to play at a slower pace, limiting the number of possessions. On top of that, O'Connell scored zero points in 23 minutes in the previous game against Colorado only a few weeks ago. It's hard for O'Connell to play worse, but ultimately if I'm fading Colorado then I'd rather go for the big play in Oscar da Silva or take someone with a higher usage rate like Jaiden Delaire.
Javan Johnson, F, Iowa State ($7,000 DK, $5,800 FD)

Johnson and the Cyclones have the second-worst offensive efficiency in the Big 12, and they're about to take on a Kansas defense that's ranked top-25 in the country in terms of adjusted efficiency. Additionally, Kansas' defense is the best in the conference at guarding against two-point baskets, and this could pose a problem for Johnson as he's struggled with outside scoring this season, barely making 30 percent of his shots from behind the arc.
Marcus Bagley, F, Arizona State ($6,000 DK, $6,500 FD)

Bagley scored under ten points in three of the past four games and also failed to collect more than six rebounds in any of the four games. Tonight doesn't get any easier. Oregon's defense ranks fifth in the Pac-12 in terms of adjusted efficiency since conference play started. The Ducks also boast a noticeable rebounding advantage over the Sun Devils, making me wonder how Bagley will perform in a tougher matchup.
The author(s) of this article may play in daily fantasy contests including – but not limited to – games that they have provided recommendations or advice on in this article. In the course of playing in these games using their personal accounts, it's possible that they will use players in their lineups or other strategies that differ from the recommendations they have provided above. The recommendations in this article do not necessarily reflect the views of RotoWire. Steve Peralta plays in daily fantasy contests using the following accounts: FanDuel: Buddusky, DraftKings: Buddusky24.