This article is part of our DFS College Basketball series.
Today's hoops slate features numerous blue bloods and several intringuing matchups across the board. Today also appears to the be the most balanced Tuesday we've had all season long. Referenced the betting lines not long after they opened and the biggest favorite was only four points while the over-under numbers were within an 11-point range. The competitive balance makes things a little tighter than usual but that won't stop us from finding a few edges.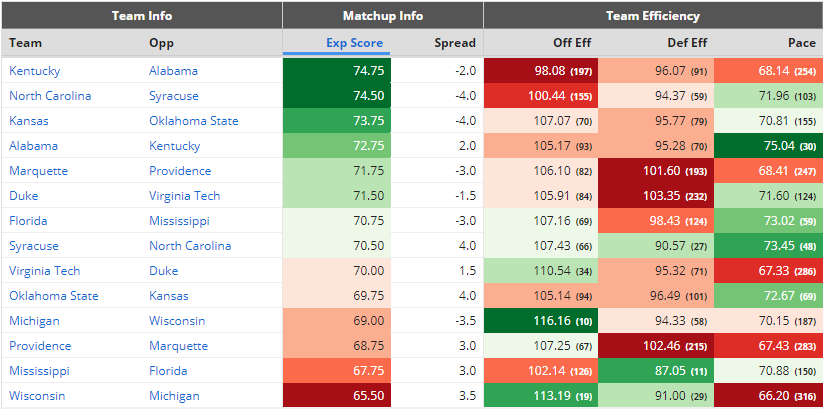 Targets
Day'Ron Sharpe, F, North Carolina ($7,700 DK, $6,700 FD)

The Tar Heels once again enter the game with a clear rebounding advantage over their opponent. Five-star freshman Day'Ron Sharpe erupted in his last two games, producing the two best games of his career. Sharpe has the third highest offensive rebounding rate in the entire country while also using the most possessions on the team when on the court. He was recently inserted into the starting lineup and has seen additional minutes over the past two games. Another strong rebounder is senior Garrison Brooks ($6,100 DK, $6,300 FD) although he was recently moved to the bench due to Sharpe's increased role. Armando Bacot ($5,400 DK, $6,100 FD) is another skilled rebounder but has similarly seen reduced minutes the past two games. He could make for an interesting value option for DK players in a buy-low situation.
Olivier Sarr, F, Kentucky ($6,600 DK, $6,400 FD)

This game has the highest over/under total on the slate so it's you don't want to miss it. In addition to general scoring expectations, there are two other key notes to keep in mind. First, Kentucky's defense can't be overlooked as it's currently ranked No. 17 in the country in terms of adjusted efficiency. The second point, the reason why I'm taking Sarr, Kentucky's defense is blocking shots at the fourth highest rate in the country while Alabama is one of the worst teams at having it's shots blocked. Sarr is the second best shot blocker on the team and uses 22 percent of his team's possessions when on the court, so he seems like a safe bet in this matchup. The best shot blocker for the Wildcats is actually Isaiah Jackson ($5,800 DK, $6,100 FD), as he currently has the sixth best-highest blocking rate in the entire country. The only issue with Jackson is his limited playing time, especially after the return of Keion Brooks.
David McCormack, F, Kansas ($5,500 DK, $4,600 FD)

Kansas has a substantial offensive rebounding advantage over Oklahoma State so this leads me to McCormack, as he has the best offensive rebounding rate on the Jayhawks. McCormack also has the highest usage rate on the team, so all in all, he seems like one of the safest picks of the night. He's had big games in the past, making him an excellent value pick with some nice upside. Jalen Wilson ($7,800 DK, $7,100 FD) has the most rebounds on the team, so he's also poised to have a productive game.
Fades
Isaac Likekele, G, Oklahoma State ($7,900 DK, $7,400 FD)

Likekele is a fine player but today he has the unfortunate task of playing against the eighth-best defense in the country, per KenPom. Likekele is only taking 15 percent of his team's shots when he's on the court, so it's seems unlikely that he'll manage to score enough points given what he's going up against. Ultimately, I'm passing simply because Likekele's hefty salary leaves us with little margin for error if Kansas' defense plays up to its standards.
Buddy Boeheim, G, Syracuse ($7,200 DK, $6,200 FD)

The Tar Heels' defense has been strong this season, coming into the game ranked No. 12 in the country in terms of adjusted efficiency. Boeheim is playing significant minutes but lacking efficiency. He's only made just 12-of-43 shots from behind the arc this season which doesn't bode well considering the immense challenge of scoring in the paint against North Carolina. Boeheim is coming off his best fantasy game of the year (against a struggling Georgetown team), so this seems like a good time to sell-high.
Franz Wagner, G, Franz Wagner ($8,000 DK, $7,700 FD)

Fully aware this one might blow up in my face, but I'm mainly passing on Wagner because his salary is nearly as high as Hunter Dickinson ($8,200 DK, $7,800 FD), and If I had to pick between the two then I would take Dickinson without question. He's been dominating over the past month or so, and it's hard to imagine him slowing down anytime soon. Dickinson has a much higher usage rate and better efficiency rates virtually across the board, so I don't see any reason to take Wagner when Dickinson is in the same ballpark in terms of salary. I'm also passing on Wagner in this situation because of the opponent. Wisconsin's defense is currently ranked No. 7 in the country in terms of adjusted efficiency, which would explain why this game has the lowest over/under on the board. Wagner might prove me wrong if Michigan is unfazed by Wisconsin's defense, but even then I'd imagine Dickinson would still have a bigger game.
The author(s) of this article may play in daily fantasy contests including – but not limited to – games that they have provided recommendations or advice on in this article. In the course of playing in these games using their personal accounts, it's possible that they will use players in their lineups or other strategies that differ from the recommendations they have provided above. The recommendations in this article do not necessarily reflect the views of RotoWire. Steve Peralta plays in daily fantasy contests using the following accounts: FanDuel: Buddusky, DraftKings: Buddusky24.