This article is part of our DFS College Basketball series.
After a robust three-day start to the season, Saturday's slate, at least initially, is limited. Rather than a full slate of games, the overall schedule is reduced, with FanDuel posting just one four-game slate as of Friday evening, while DraftKings' has a seven-game contest going off mid-afternoon and four evening games overlapping for the nightcap.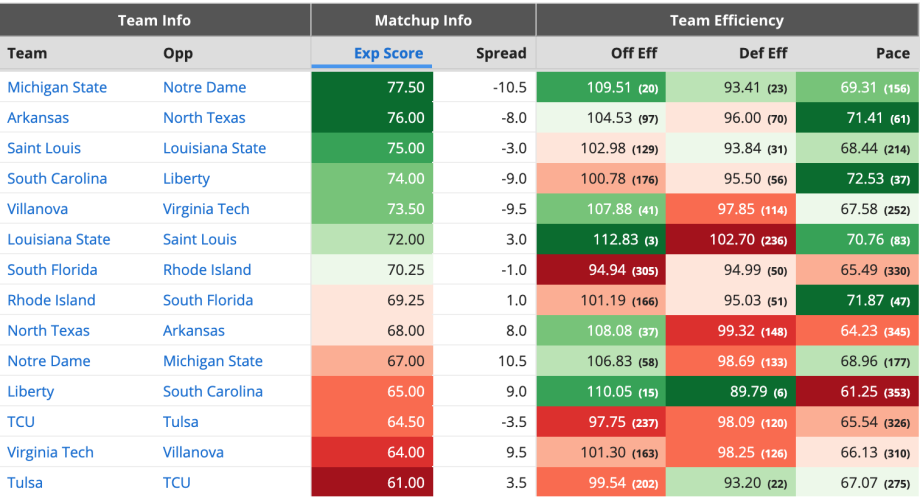 Targets
1. Jordan Goodwin, G, Saint Louis ($8,200 DK, $7,500 FD)

Goodwin is arguably the best rebounding guard in the country, and potentially someone casual fantasy players know little about in a Tier 2 conference. He compiled 16 games with double-digit boards last year, and seven more with at least eight. He needed only 23 minutes to record a double-double in their opener, finishing with 12 points, 11 rebounds, four assists and two steals against SIU Edwardsville. This is obviously a major step up in class, but we can look for some tempo here. Saint Louis put up 89 in its opener, and LSU allowed the same SIU team to score 81.
2. Joshua Langford, G, Michigan State ($6,100 DK, $4,200 FD)

Full disclosure, the more I went through this slate, the less I liked Langford, as there just appeared to be some better values available. But I'm OK trusting talent against price. Langford is healthy, and surely will get more than the 21 minutes he saw in the opener. He averaged 15.0 ppg, 3.6 rpg and 2.3 apg in his last healthy season, and rounded, that would translate to 23 DKP, which flirts with 4x return. At his FanDuel price, he's a near must play. As is Joey Hauser ($5,800, vs. $7,300 DK) at a massive discount.
3. Justin Smith, F, Arkansas ($5,900 DK)

As almost nine-point favorites, and with an implied total of about 80 points, we know we want pieces of the Arkansas attack. Smith looked like the same player he was at Indiana prior to transferring, putting up 13 points, four rebounds, two assists and three steals in their opener. We can't count on the defensive output again, but I think there's some safety at a reduced cost.
4. Nate Laszewski, F, Notre Dame ($6,000 DK, $4,900 FD)

This is my hunch play for Saturday, and the early portion of the year. Someone has to make up for John Mooney's absence (16.2 ppg, 12.7 rpg), and while Laszewski isn't remotely the same as Mooney body wise, it's hard to see Juwan Durham ($6,800) taking a huge leap after averaging just 17.8 minutes last year. The Irish need to replace a lot offensively, and on the glass, and Prentice Hubb's ($7,200) two-year inconsistencies have me searching elsewhere.
5. Caleb Daniels, G, Villanova ($5,300 DK)

Daniels has played 29 and 36 minutes in two games, scoring 14 points in each while averaging 4.0 rpg and 2.5 apg. That presents incredible value at this price.
Fades
1. Hasahn French, F, Saint Louis ($7,000 DK, $7,900 FD)

That French is questionable due to a concussion, which forced him to miss the Billikens' opener, is enough reason to pass. But even if he plays, this is the type of game in which French typically struggles. He's able to use his NFL tight end frame to dominate in the A-10, but an athletic LSU front line can match him physically, and likely create foul trouble, French's Achilles' Heel. He'd need a solid showing on the glass and with blocks to provide ample return.
2. R.J. Nembhard, G, TCU ($7,900 DK, $5,600 FD)

This game comes with the lowest total on the slate, with an early 125.5 o/u. That alone is enough to fade all things on both sides, but we can mix in Nembhard's status as a game-time decision due to a positive COVID test and further look away. If we need more convincing, he averaged 12.1 ppg, 3.7 rpg and 3.5 apg a year ago. That's nice balance, but even if we expect statistical growth, there's almost no path to a 4x return.
To tack on, we can probably fade all things Horned Frogs and Golden Hurricanes. This game's total is a full 12 points lower than all others.
3. A.J. Lawson, G, South Carolina ($7,300)

I'm all in on Lawson for the year, but he he still averaged little more than 13 ppg and 3 rpg a year ago. That barely results in 3x return, and while growth is clearly expected, the Gamecocks are roughly 10-point favorites and have a moderate 75 point total. I expect them to balance their minutes throughout an easy win.
The author(s) of this article may play in daily fantasy contests including – but not limited to – games that they have provided recommendations or advice on in this article. In the course of playing in these games using their personal accounts, it's possible that they will use players in their lineups or other strategies that differ from the recommendations they have provided above. The recommendations in this article do not necessarily reflect the views of RotoWire. Chris Bennett plays in daily fantasy contests using the following accounts: FanDuel: k30kittles, DraftKings: k30kittles.