This article is part of our DFS Basketball 101 series.
About Dream11
Dream11 is India's most popular fantasy sports site with an exponentially growing user base over 20+ million fans.
Dream11 is played by using your sports knowledge and skills to select teams made up of real players for cricket, NBA, football, kabaddi and hockey. Create your team within a maximum budget of 100 credits. Your team earns points based on your chosen player's performance in the real-life matches. It's time to showcase your skills and go for glory!
To highlight how easy and fun it is to play on Dream 11, let's dive into Dream11's NBA contests.
Selecting a match
Dream11 shows the current and upcoming matches of NBA. Select the NBA match in which you would like to create your Dream11 Team.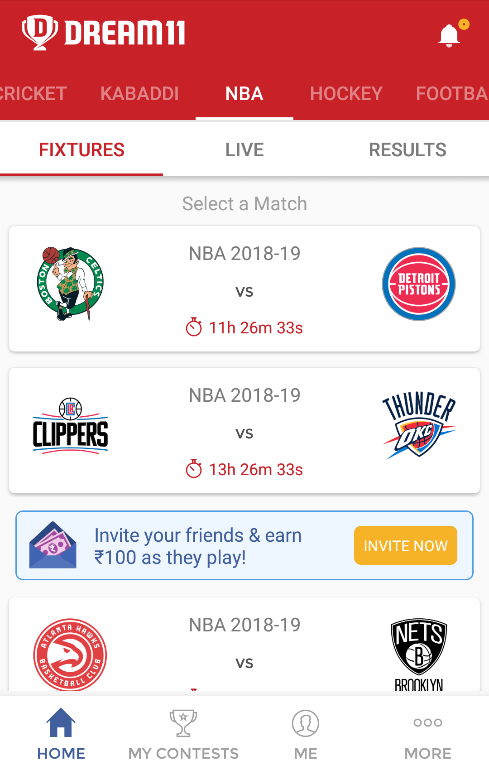 Creating a Team
Creating a team on Dream11 is simple, but keep in mind you'll be facing off against other knowledgeable sports fans. Before creating your team, keep tabs on the breaking news, injury updates, starting lineups, expected role and the recent performances for all players in the pool.
Before you start creating your Dream11 NBA team you must understand Dream11 NBA Points system:
1. For every point scored by the NBA player in the real match, you will get 1 point. For example, if a player nails a 3-pointer, you'll receive three points in Dream11. It's as simple as that.
2. For every rebound collected, you'll receive 1.2 points on Dream11.
3. For an assist, you will receive 1.5 pointst.r> 4. Steals and blocks are rewarded with three fantasy points.
5. For every turnover, your player will lose one point. So, choose your player accordingly.
You have 100 credits for creating you Dream11 NBA team. Note that you have to pick eight players within the given 100 credit salary cap. Also, you need to pick at least one player from each of the following positions:
1. Point Guard (PG)
2. Shooting Guard (SG)
3. Small Forward (SF)
4. Power Forward (PF)
5. Center (C)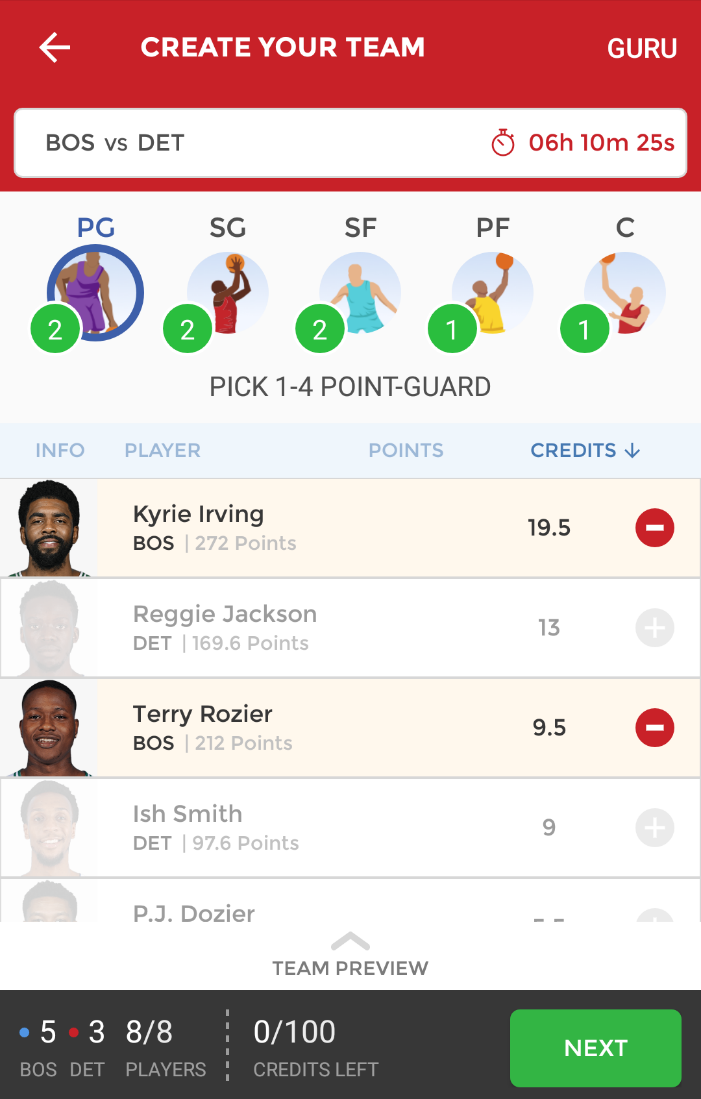 Remember to monitor the following items when building your team:
1. Number of players added to your team
2. Available Credits
3. Deadline for team submission
Can I create multiple teams in Dream11 NBA? Yes, you can create up to six different teams for a match.
To check players past performance and their past Dream11 points, just click on the players profile image under info. You can get all past Dream11 points of that player.
https://www.rotowire.com/images/dream11_bio.png
Selecting a Star Player (SP)
One of the unique features of Dream11 is the selection of a Star Player (SP). After creating your Dream11 team, choose a Star Player (SP) for your team. A Star Player (SP) gets you 2x points scored by him in the actual game. So, always choose a Star Player (SP) who is an all-round performer. Players like James Harden, LeBron James, Kevin Durant, Kyrie Irving and other superstars.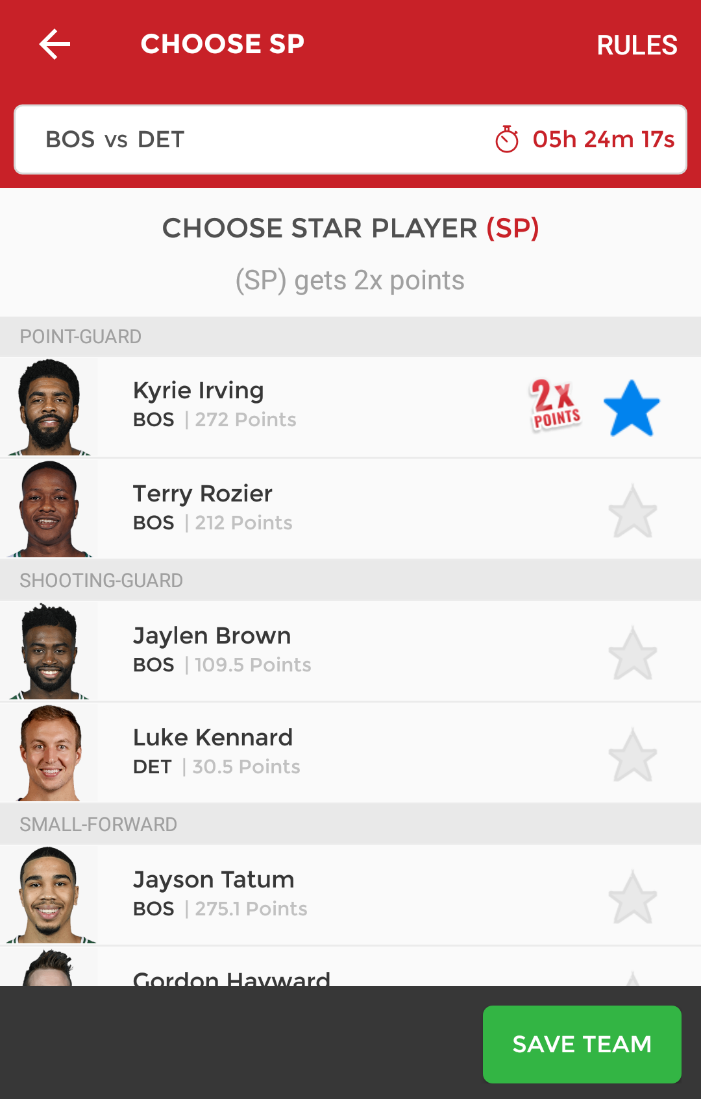 Joining Contests in Dream11
After creating your team, joining contests in Dream11 is fairly simple. On Dream11 there are two types of contests:
1. Practice Contests
2. Paid Contests
Practice contests: If you're a new player to Dream11, try playing in a practice contest to enhance your skill level. Practice contests are available for every type of Dream11 NBA match. Use this feature to gain experience before playing paid contests.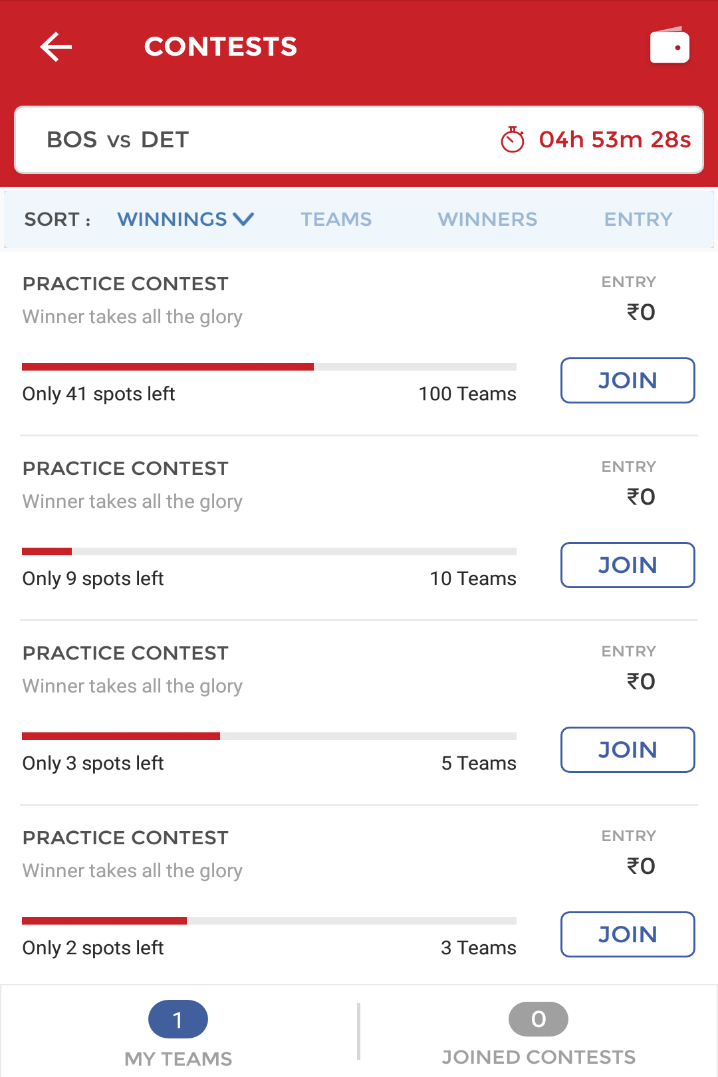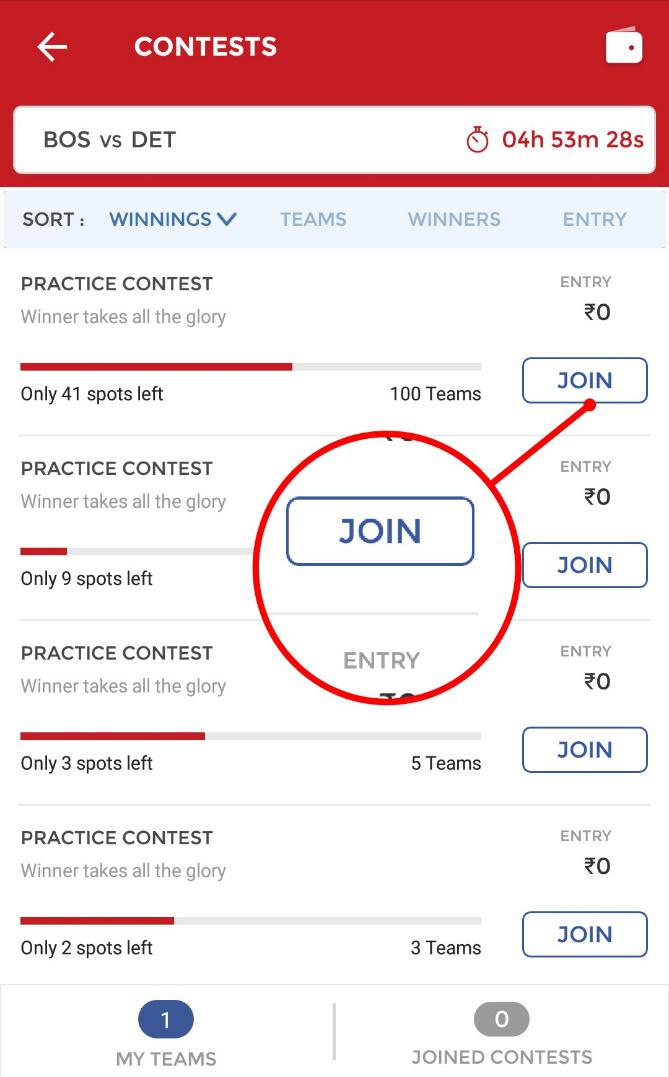 Select the practice match which you would like to join and click the "JOIN" button. You will see the following screen for your conformation.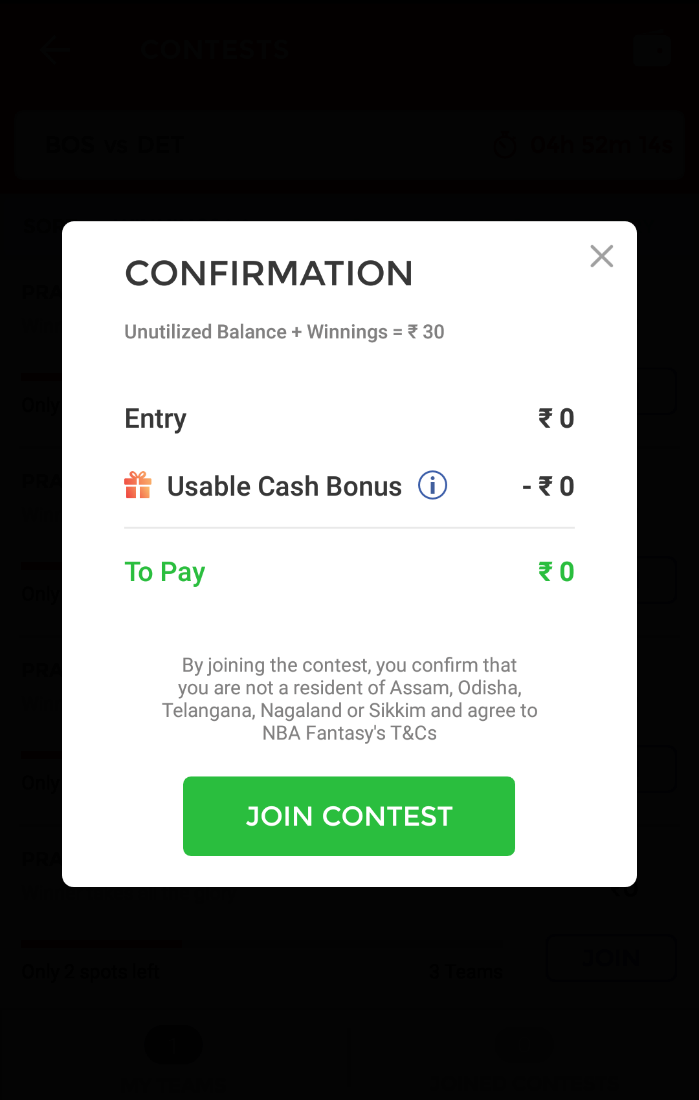 If everything is correct, click on "Join Contest" button. No deposit is needed to join Practice contests on Dream11.
Paid contests: Dream11 runs more than 100+ paid contests for a single game. From the Dream11 Mega Contest (GPP) to smaller Head-2-Head matches. To join any paid contests you need to have sufficient money in your Dream11 wallet.
Joining paid contests is very simple. Follow the same process explained above for joining practice contest with the only difference being you need to pay the entry fee.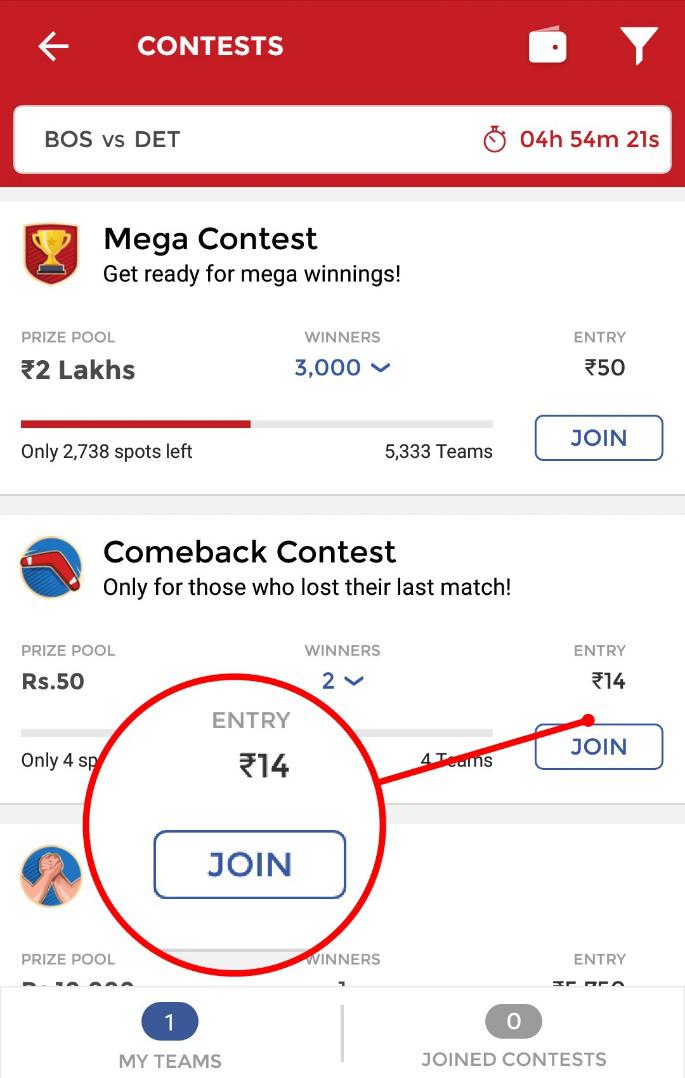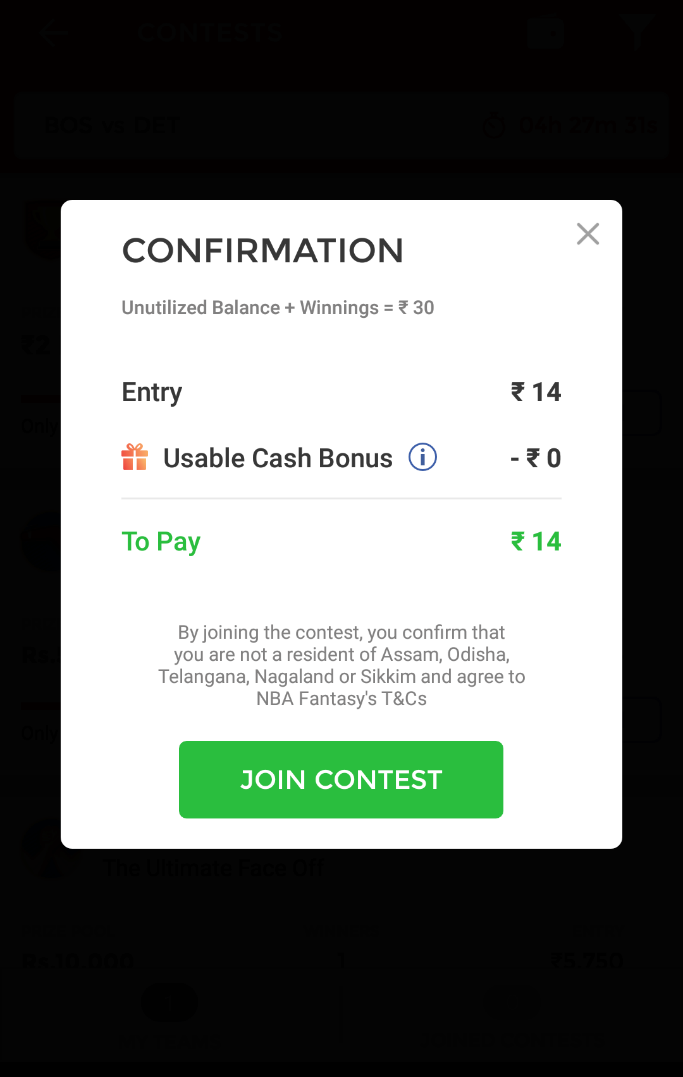 If everything is correct, click the "Join Contest" button to successfully enter the contest.
In multi-entry contests, you can enter up to six teams. Dream11 also offers single-entry contests.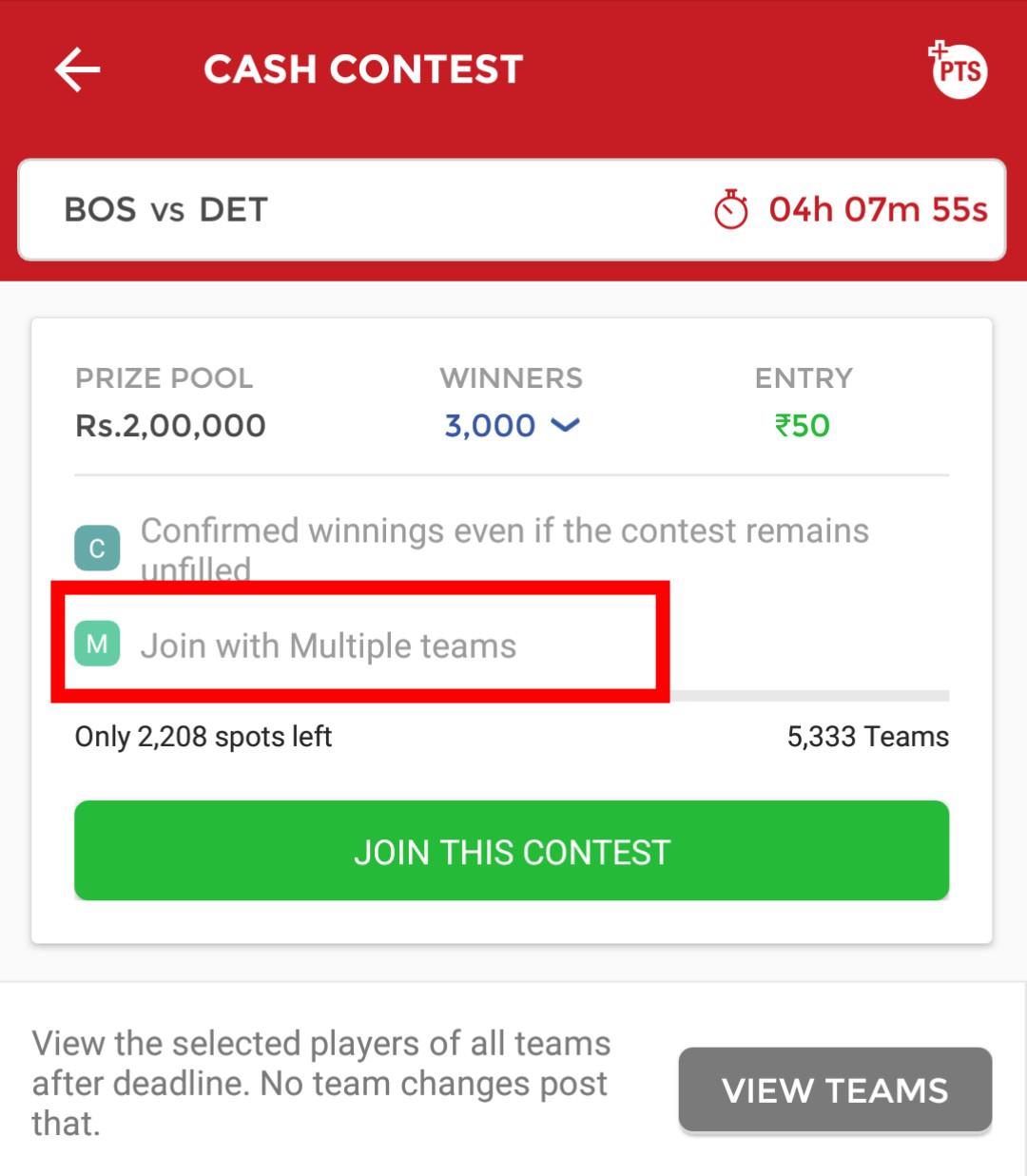 If you see M – Join with Multiple teams marked in red on any contest, you can enter up to six lineups into that contest.
Dream11 Points and Team Ranking
Once the match has started you can track you ranking among your other competitors. Dream11 points are updated every two minutes throughout the contest. To see live standings, click the "live" tab and select the match you would like to see your team ranking.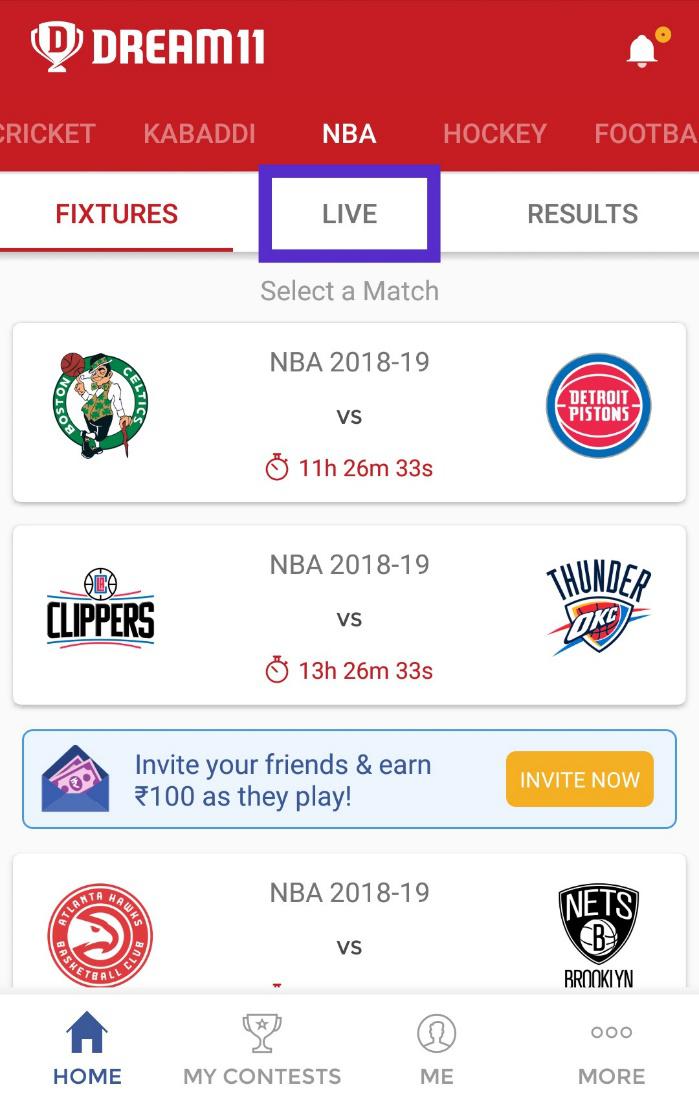 Winners will be declared about 15 minutes after the contest has ended. Once the winners are declared your winnings will be deposited into your Dream11 wallet. You can either use it to join other contest or you can withdraw money into a verified bank account.
Managing Team
You can make unlimited changes to your team before the contest locks. If you make any changes to your team, make sure to save team before the deadline.
You can also change your Star Player (SP) at any point before lineups lock. Once the deadline is passed you cannot make changes to your team.
Enjoy playing on Dream11 and good luck!
The author(s) of this article may play in daily fantasy contests including – but not limited to – games that they have provided recommendations or advice on in this article. In the course of playing in these games using their personal accounts, it's possible that they will use players in their lineups or other strategies that differ from the recommendations they have provided above. The recommendations in this article do not necessarily reflect the views of RotoWire. Ajay Patil plays in daily fantasy contests using the following accounts: Dream11: Erode Pasanga, Myteam11: Bang_bang, Halaplay: Lions_den, Playerzpot: Maratha King.